A Level results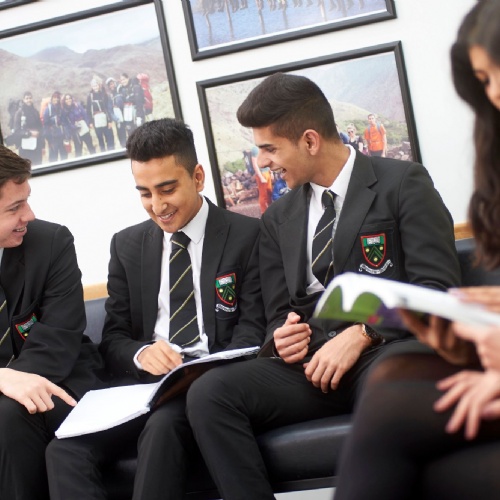 Students celebrate excellent A Level examination results
Against a background of new specifications in many subjects, with increased content, greater challenge and a different style of examination papers themselves, we are delighted that our Year 13 students have achieved a most impressive set of results, with 73.1% of the grades at A*, A or B. Over 45% of grades awarded were A* or A - this is the highest level since 2012.
There were a number of particularly impressive performances including the following students who gained a 'clean sweep' of A* grades……
Ranjana Nair 3 A* grades in Maths, English, Chemistry, plus A* in the Extended Project
Sarah Siddique 3 A* grades in Maths, English, Economics, plus A* in the Extended Project
Amitoj Heer 3 A* grades in Maths, Biology, Chemistry
Harshav Mahendran 3 A* grades in Maths, Physics, Computing
Aarif Ali 3 A* grades in Maths, Biology, Chemistry
Theranjit Saran 3 A* grades in Maths, Further Maths, Physics
A special mention to twins Sophia and Dayna Gill who gained 5 A* grades between them…….
Sophia Gill A* grades in Maths, Biology and Chemistry
Dayna Gill A* grades in Biology and Chemistry, and an A grade in Maths
Eight students gained two A* grades and an A grade, and a further 18 gained one A* and two A grades.
Headteacher John Constable said "These excellent results are a testament to the hard work of our students and to the dedication of our staff who taught and supported them. We are very proud of the achievements of this year group as a whole. For each individual student however, the most important thing is whether the results they have gained enable them to move on to the next stage, whether university, apprenticeship or work - and we know that the great majority of our students have successfully secured the places they wanted. So many of them have also combined their academic studies with participation in other activities including music, fundraising, overseas expeditions, and support for younger students. They exemplify our ethos of being confident and well-rounded, independent and creative, responsible and caring. Congratulations to them all."