Gold D of E Completion March 2016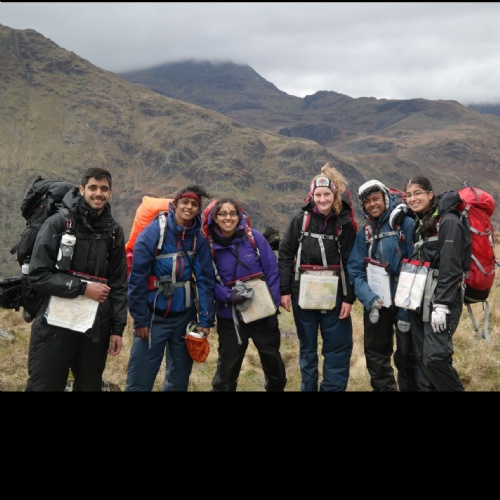 D of E was a new experience for me. Having never done Bronze or Silver the only contact I had with D of E was from my peers who had completed the Bronze level.
D of E was a new experience for me. Having never done bronze or silver the only contact I had with D of E was from my peers who had completed the bronze level. I knew of the four different sections; skills, physical, volunteering and of course the expedition. However the key difference at the gold level is the 5 day residential that participants have to complete. I picked to attend a sports camp which was amazing. I didn't go with anyone I knew meaning I had to make new friends.
The most straight forward section for me to complete was my physical. As I was already committed to a ladies netball club, weekly training and matches were already part of my week. I enjoy playing netball and having to set my own aims for the D of E section allowed me to work and develop my game to a greater level. This physical section became the section that I had to complete over an 18 month time period. This then meant I needed to complete 12 months volunteering and skill for 6 months.
The volunteering section allowed me to go back into my primary school, Ryvers, and run a sports club with some of the year 5 and 6 girls who were identified as having low self-esteem. I started this to complete the section, having now completed my 12 months I am keen to continue to go in and run this club. The rapport I have been able to build with these young girls has helped them all grow in confidence and it's been amazing seeing them all grow as individuals in the time I have been alongside them. This is the section that I have enjoyed more than I ever thought I would at the start of my D of E.
My skill section was my hardest section. Due to my commitment to netball finding time to pick up a new skill was sometimes a challenge. I decided to commit to learning to drive as my skill, with an aim to pass my test after 6 months on my first attempt.
The expedition is the section where the school is most supportive. For me this is the section that I enjoyed the most as it pushed me the out of my comfort zone more than any other. We were able to go on a practice expedition in October half term to Snowdonia national park. This gave us the opportunity to learn essential skills such as packing a bag, pitching tents, and the correct way to walk on steep and rocky terrain. It also helped us apply our map reading skills and helped me to test out some of my new equipment. I definitely had to make sure I did some shopping before my assessed expedition! When it came to the assessed expedition we had to work as a team as we faced challenging weather which was mostly flooded streams making fords impossible to cross and even some snow. On one day we had to re-trace our steps more than once for over a mile, this did nothing for the team morale! My response was to try and encourage people and on this day I had to use all my skills and resilience to keep others going and on target when they slowed almost to the point of giving up. This section was useful when it came to university interviews. I was able to draw on examples from different elements of the expedition in my interviews showing characteristics of a well-rounded candidate.
Now that I have completed my D of E I am aware of the impact it has had on me. Not only have I been able to continue with volunteering that I started but the expedition has made me want to travel back to Wales to walk Snowdon with some other members of the D of E group. Moreover this year I am going back to my residential as a young leader; I am keen to give back so that other young people can have a similar experience to mine. I am now looking forward to going to the palace to pick up my award.
None of this would have been possible without the help and support that Mr Podbury has given us. I, along with the rest of the gold D of E group, are so grateful that he ran it for us this year and we hope that in years to come other groups and individuals will be challenged yet have as much fun as we did.
Written by Ruby Sewell (6O)