Gold Duke of Edinburgh's Award Assessment Expedition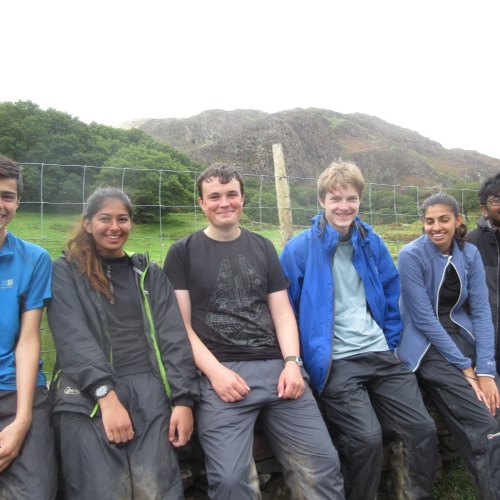 After an eventful Gold DofE practice expedition back in year 12 we left for Wales one final time together as a Gold DofE group, ready to finish the exciting, but rather nerve racking 4-day trek ahead of us.
Having learned and improved upon our mistakes from the practice expedition, we had packed better, lighter and were mentally prepared for the expedition, which I think, it's safe to say we were all looking forward to, being our last expedition together as a group.
Once our assessor John arrived, we embarked on our 5 hour journey to Snowdonia National Park. On the Sunday evening, we arrived at our first campsite, all prepared and geared up for the challenge; we set up our tents, and went for one last 'proper' meal, at a Local American diner. Fed and rested, our nerves were set at ease, as we went to sleep in our tents, ready to get up early and start our Gold DofE Expedition!
Group 1 – Amitoj, Selina, Lahiru, Haddon, Arundhati, Hamasa:
On the Monday morning, our group woke up early to start our expedition. One of the criteria for the expedition is camp craft skills, and leaving on time is a part of that. We did leave a tiny but late on the first day, however our timings got better as the expedition went on. The first day was challenging, as expected from our practice expedition; we didn't let the weather deter us from having a great time and having a positive group morale! Thankfully, the weather was great and we had our lunch on top of a hill, having done a fair bit of climbing allowing us to take in the beautiful scenery while resting. Shockingly, despite our fast speed, the other group overtook us - however we did not let this impact our positive team morale. Much to our groups' excitement we stayed in a bothy on the first night. Here, we could relax in the small cozy building sheltered from the fast winds outside, and we didn't even have to put up our tents!
On the second day we woke up slightly earlier to ensure we arrived at the camp site earlier and outside was a rather magnificent cliff face which we perhaps couldn't appreciate the night before, arriving quite late at night. After packing away our sleeping bags we went to cook breakfast outside, and the positioning of the bothy meant it was incredibly windy! We all had to ensure we stored all our items in our pockets with closed zips to make sure they didn't blow away. We left on time and made a start towards our destination. Before leaving we were warned, by our expedition assessor, of the difficult navigation we would encounter. Inevitably we got lost. However, due to our positive outlook and problem solving skills and the map and compass skills learned from the practice expedition, we could get back on track. The terrain on this day was particularly hard to walk through, we encountered many boggy fields and steep climbs which was both mentally and physically challenging. Our morale towards the end of the day was a bit low as we were 4 hours behind our estimated arrival time. However, we worked together and motivated each other to reach the campsite in one piece before sun down. After we reached the campsite, the other group, who had arrived a fair bit earlier, set up our tents for us, while we set out to cook before the sun went down. We had a well-deserved sleep, for another action packed day to come.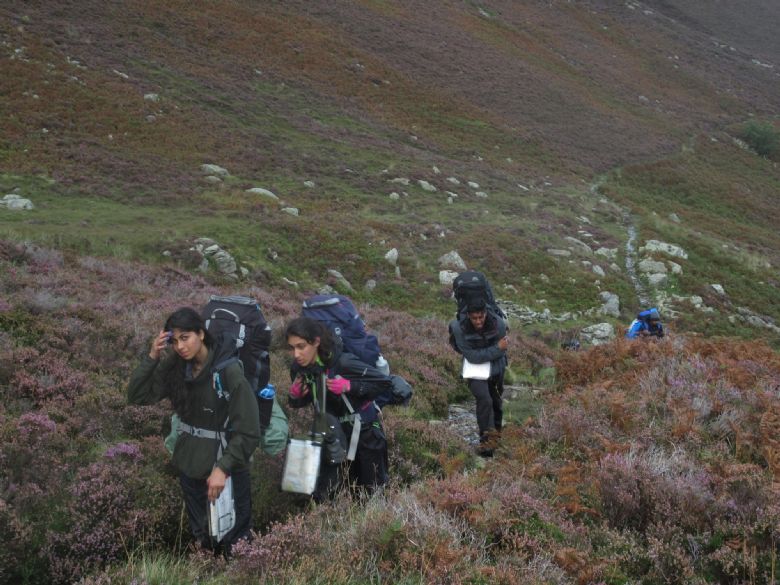 Day 3 was particularly challenging, but perhaps the most rewarding as well, as it was the day we climbed the Mount Moel Siaboid. Prior to departing we were all particularly nervous as the idea of climbing another mountain and going uphill with our heavy packs was rather daunting. The hot weather along with the steepness of the trek up to the summit definitely made the climb a challenge. However, as a group we could motivate each other to climb the summit, leaving us in very high spirits. Upon reaching the top, we could look down and realise the feat we had just achieved in climbing the mountain and all the hard work felt worthwhile. After taking a few group pictures we set off on the incredibly steep descent down the mountain as we were wild camping next to a stunning lake – a perfect location for the end of a hard day! The descent was extremely arduous as most of us had multiple blisters on each foot by this time. Despite this, we pushed on and reached the campsite, which felt great as today was campfire night! After setting up our tents and cooking, we all sat together and reflected on what we had achieved together as a group. Some of us stayed up for campfire, while the rest of us went to sleep, being exhausted and ready for another early morning the next day – the last day!
On the 4th day we woke up to a spectacular view of the lake we had wild camped next to, and seeing the mountain we had climbed up and down, made us reflect upon what we had achieved so far, as a group. Having efficiently packed away our kit, motivated by the fact it was the last day, we made a start to the day, just as it started to rain. We couldn't evade the rain, after having 3 days of brilliant weather, the 4th day started off with heavy rain. However, as usual, our team didn't let this affect our morale. Even though the rain did unfortunately make the walking harder as the ground was a lot more slippery, the challenging weather didn't stop us though, as we persevered through the rain, determined to finish the trek. In fact our group was so determined to pass our expedition and go home that we arrived at our finishing check point an hour earlier than expected, somewhat making up for the previous late arrivals! The final few hundred meters we could almost hear the traffic and anticipate seeing the minibus anytime soon. When the moment came, it was pure delight, we were ecstatic, not feeling the pain in our legs. Finally, sitting down in the minibus, the sense of achievement from passing our expedition section of our Gold award was overwhelming and each every one of us felt proud of what we had accomplished.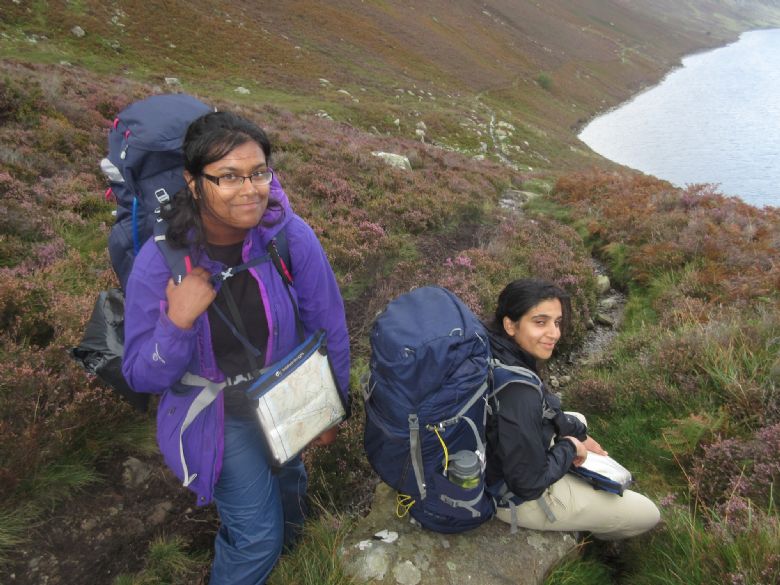 Overall, upon arrival back home, the experience of this expedition was undoubtedly rewarding and unforgettable and special to each one of us in our own way. We have built upon many skills, including: teamwork, navigation, resilience, confidence, and a positive mentality. We are greatly appreciative of the opportunity we have been given to develop ourselves and would recommend this award to anyone who is up for a challenge.
Group 2 – Daniel, John, Oliver, Pratyush, Simran, Avneet
Our experience was similar to the other group, as in we did the same walk, however each group had a different individual experiences of the expedition which were unique to each group. Having completed a practice expedition, we knew, the most difficult part of the expedition wasn't the pure physical challenge itself but rather the mental endurance required to keep moving and stay positive throughout the expedition. We were the faster team, as it was established on the practice expedition, which meant, every morning we could leave the campsite an hour and half after the other group, allowing them enough time to get a head start to reach the campsite at similar times.
Our group had bonded really well over the practice expedition, hence we knew each other's strengths and weakness and played that to our advantage when having a strategy in play for each leg of the four days.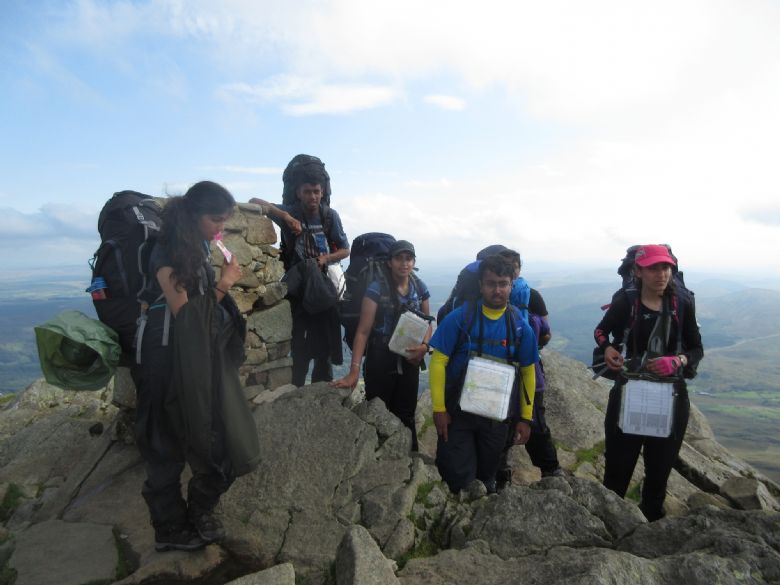 Oliver's strength was uphill climbing, having a distance running background, stamina was not an issue for him, on each of the days, he kept us going and pushed us to our limits, and even beyond, kept us going when we thought we had nothing left. He was nicknamed mountain man, especially was his lack of trouble with a lot of the terrain we were struggling with, as he raced up the mountains and hills, loving the challenge. Seeing him further ahead made us believe that it is humanly possible to do it, so we did it!
Daniel's strength was navigating, being a relatively experienced climber having recently done some climbing in Italy in the summer holidays, he helped us make the correct navigation decisions in times of uncertainty and confusion. This really saved us valuable time, which meant we didn't take unnecessary diversions and didn't waste too much time. He really was our group leader and provided great support, often leading from the back, letting us take charge and experience navigating for ourselves. Of course navigation doesn't always go to plan, and when paths drawn on maps can't be seen in real-life, he helped to lead us back on track as we all did our bit to locate ourselves and navigate back on track.
John's strength was resilience, as he was a great person to look up to in moments of pain and doubt. Seeing John being able to do the walk and motivate others to do as well was great and gave us a, can-do feeling! He sometimes lead from the front, at other times stayed back to help the team members struggling on the particular leg of journeying and provide great moral support. His great music and singing throughout the expedition also made the experience that bit more memorable and fun.
Pratyush's strength was being able to see the bigger picture, he was able to motivate us when we felt down, unable to see the finish in sight, or sometimes wondering why we put ourselves through this! He was able to remind us constantly, what a great privilege and experience we are having, and the satisfaction we would feel at the end of it. He would be caring and look out for other team members, who needed help, lead from the front and stayed back as well and made sure we stayed together as a group.
Simran's strength was perseverance. She just did not stop walking. When Simran got going, it was great to see her persevering through all the struggles and keep on going at her steady pace. She knew and believed in the group idea that the faster we walk and the less breaks we take, the faster we get to the camp site. She provided great humor with her fun stories and it was great to see her go, even when she was tired, making you believe you can do it too! Her technique of small but quick steps was great. She stopped us from taking breaks too often and made sure we covered appropriate distance before taking the next break.
Avneet's strength was belief and hard work. She was able to move past the physical pain she was feeling and the injuries she had and was able to battle through to finally complete the expedition. When going downhill, she really hit her stride and lead from the front at times, having perfected the technique to downhill climbing. Seeing her motivated and able to put aside physical pain was inspiring and helped us complete each day.
Some thoughts from our group members:
Oliver: One of the most rewarding experiences was reaching the summit of Moel Siabod; a great achievement added to by the great weather, which meant we had stunning views from the top. Having worked so hard to get the team to the peak, it was immensely satisfying to be able to see Mount Snowdon and the surrounding area whilst we enjoyed lunch, proving an opportunity of self-reflection and what we had achieved as a team together. It provided meaning too and offered a positive side of trekking through bogs with wet feet.
Pratyush: One of the most challenging, yet rewarding moments for me was coming down from the top of Moel Siabod; the last leg of downhill climbing to reach the campsite on the 3rd day was monstrously steep in my opinion, an opinion not shared to the same degree of extremity by the rest of my team! In hindsight, it wasn't as bad as I initially perceived it to be. Thanks to the help of my team members and the efforts of Ms Kenner to help me, I successfully (and safely…,) reached the bottom of the mountain. The satisfaction of overcoming my fear of heights which I thought I couldn't conquer, and finally reaching the bottom, seeing the face of the mountain I just came down felt like a great feat to achieve personally.
Daniel: Navigating in the mountains and valleys of Snowdonia National Park is certainly a step up from what is required at Bronze level - we were required to be out for 8 hours each day, and we were tackling far more mountainous terrain. For the most part, the navigation was straightforward in terms of directions, but we still needed to pay attention as there were a few places where it was very easy to take a wrong turn or lose track due to poor visibility or a lack of path! Thankfully (and with a bit of luck) we were successful, leaving us with the main navigational struggle - the terrain underfoot. It was an interesting, exciting, and challenging experience, something we sure can't expect back home!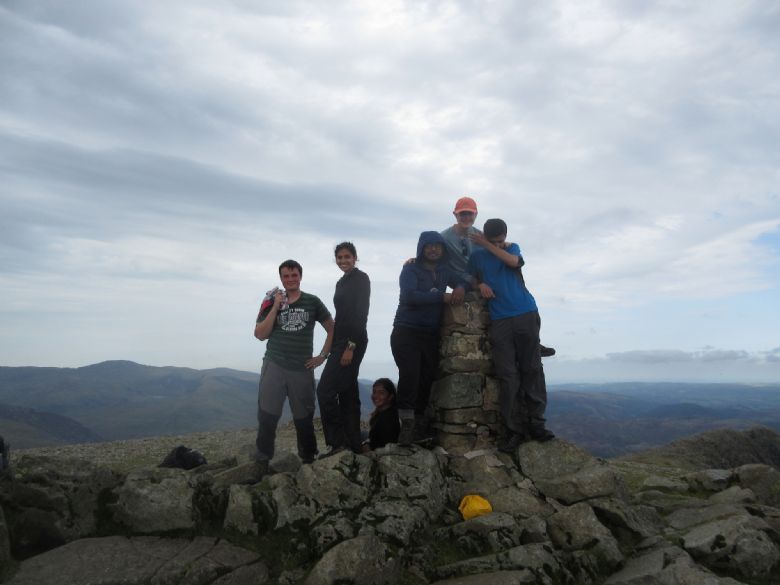 Avneet: Most of us (not all!) found walking uphill one of the most challenging aspects of the expedition, partly due to the sheer amount of energy needed to walk up steep hills. To overcome this obstacle, we used the skills and techniques we learned from our practice expedition and further research. We took breaks when required to replenish energy banks for the next stage of climbing, and pushed on at a steady pace that all the members of the group were capable to walk at. We found that walking quickly with small steps was the best technique and made it a lot easier to climb the mountains as it reduced the amount of energy we lost and therefore allowed us to withhold that energy when needed. Reaching the top of the mountain felt great and putting in the effort was worthwhile, for a view you just can't get without that effort.
Simran: During our day of the expedition, we were motivated to complete the expedition and capture and cherish all the memories from the expedition so far. During the last hour of our expedition, the pouring rain, which we couldn't evade fueled us to finish quicker and faster as the we thought the faster we walk, the faster we reach the warm dry mini-bus! We came across Mr Podbury who told us we were almost finished and had to cross the bridge to reach where the mini busses were parked. Suddenly, with a newly found energy, we all zoomed across the bridge, ignoring the mud and sludge on the ground, to finally reach the mini-bus and complete our Gold DofE expedition!
Overall the experience was an eye opening and memorable one, allowing us to push ourselves to the limits to which we thought we could be challenged to, strengthening our beliefs in our own strengths as well as a group and a team. Throughout the expedition during our DofE journey we learnt so many skills, which really is hard to experience in many other ways. The expedition was one of the hardest experiences we have yet encountered, but the satisfaction and pride you get from completing the expedition is unrivaled. It's not easy, but generally in life good things are not easy; if it was easy anyone would do it. If you are up for a challenge and ready to have an experience of a lifetime, be sure to do Gold DofE!
Finally, we would like to thank Ms Kenner for coming along with us supervising, providing some great moments and stories, to our assessor John, who was very understanding and nice as well as inspirational. Lastly but by no means the least, Mr Podbury, whose commitment to DofE in school has been amazing, with him spending so much time planning, and going out to locations to check and organise everything. Thanks to everyone present, for providing us with a great experience, that we will cherish and the feeling of which we hope to keep with us for a very long time.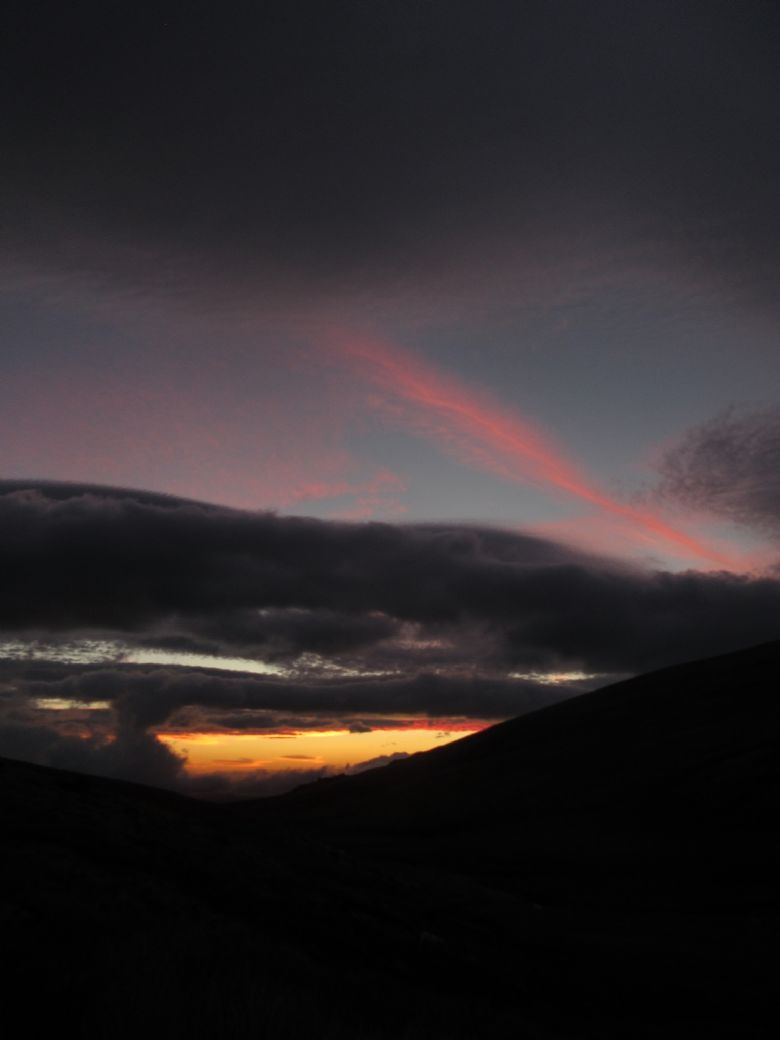 Written by, Amitoj Heer, Selina Saini, Haddon Lionel Ganippa, Lahiru Tennakoon, Hamasa Hamed, Arundhati Verma, Oliver Way, Daniel George, John Carlton, Simran Bhandal, Avneet Poonia and Pratyush Jain