GCSE & A Level Drama visit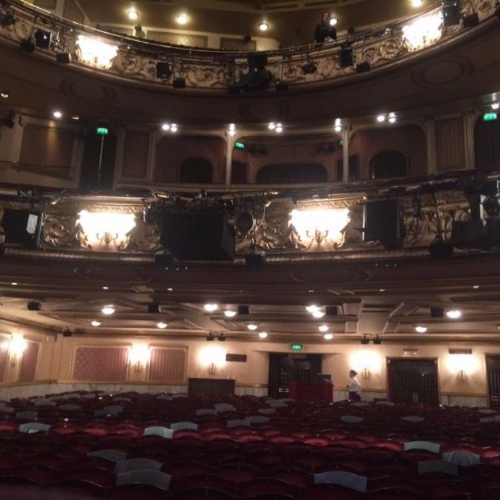 Recently, the GCSE and A-level drama students visited the Gielgud theatre to watch 'The Curious Incident of a Dog in the Night Time' adapted from the award-winning novel by Mark Haddon. The piece was amazing and evocative. We highly recommend going to see it if you have the chance.
The account below was written by Esha Verma (10S) and Nico Ferrari (10V).
Intended to help us with our final exams, the story followed Christopher Boone, a 15 year old savant in the truest sense of the word.
We left school at 5.00pm and arrived early, or at least as early as we could have, considering the lateness of the trip, and so decided to fill the empty time by wandering the streets of vibrant London. Some of us made a beeline for the nearby Starbucks for a pre-performance beverage.
The theatre opened its doors at 7.15pm and from the moment the play began we were gripped, laughing and gasping on cue. Many among the audience were brought close to tears by Joseph Ayre's gut-wrenching portrayal of a young autistic boy and his relationship with life and people as a collective. A newcomer to the stage, Ayre became his character in a way that few actors can, even veterans to the stage. His relationship with his fellow actors, particularly with Nicolas Tennant as Ed, helped form the audience's image of the relationship between father and son was superb, proving the importance of "chemistry" between actors; something we all should strive to emulate in our own performances.
Using effects and technology we would not be surprised to find in films, Marianne Elliott and the crew combined the two styles of visual media, creating an atmosphere unlike any other. An entertaining and evocative piece, we cannot recommend the play highly enough, and despite our late return (11.30pm at night!) and our resulting reluctance to come to school on time the next day, we all enjoyed it thoroughly and would like to thank the Drama department for organising the visit for us.