Duke of Edinburgh News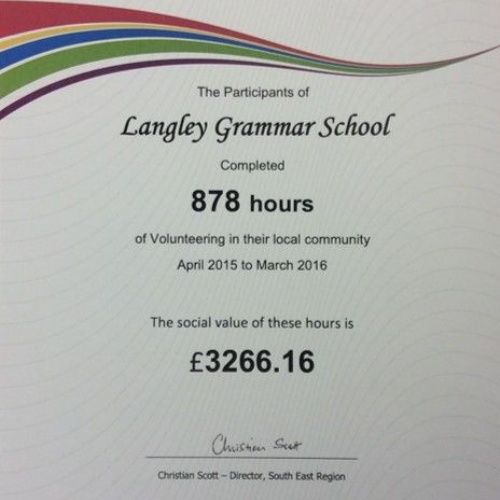 The School recently received a certificate from The Duke of Edinburgh Programme highlighting how between April 2015 to March 2016, participants of the award at Langley Grammar spent 878 hours of their time in voluntary work, helping others.
Meera Shingadia (6C) explains more below:
The Duke of Edinburgh Award is very popular in school, with students in year 10 working towards their Bronze Award, and students in the Sixth Form enrolled on the Silver and Gold Award programmes. In order to achieve the Award at all three levels, partipants have to spend their time volunteering to help others. The large number of hours dedicated towards volunteering highlights the students' engagement with the local community and their desire to help people from all walks of life.
The Duke of Edinburgh Award has calculated the social value of these hours is equal to £3266.16, based on a pay rate of £3.72 per hour. This is a great achievement.
For me personally, embarking upon the Bronze, and currently, Silver Duke of Edinburgh Award, has given me the opportunity to 'give back' to my community through volunteering at a cooking club at Castleview School. During the 6 months I volunteered, I worked alongside my former Year 6 primary school teacher with Year 5 and 6 pupils, helping them to develop their cooking skills. Although, my initial aim was to: 'enhance my leadership skills and confidence whilst helping Year 5 and 6 children to develop their cooking skills' this soon developed into something more altruistic, as by simply committing to an hour a week of helping at this club, I was able to help introduce a sense of independence and confidence within the students as they learnt an important life skill. Equally, the volunteering experience was beneficial to me. It placed me in a situation beyond my comfort zone, thus requiring me to adapt and develop my confidence, which was personally enriching.
Overall, the certificate awarded to the school is significant as it is a visual reminder of the importance of volunteering and the social connections it fosters. By having the volunteering element of DofE, it allows participants to gain a broader range of life skills, insight and experience as well as a rewarding sense of accomplishment at the end of the volunteering period.