COVID-19 coronavirus and school closure update
UPDATED 29 June 2020
Current school status
School is currently closed to most students .
Students across all year groups are receiving support for their learning through a variety of distance learning methods. For further information click here.
The school is open every day for a small group of students (currently a maximum of 15) who the school and their parents have agreed would benefit from supervised study support.
In line with Government guidance for the phased reopening of schools we are currently bringing Year 10 and 12 students into school for face to face sessions in support of their home learning. For further information click here.
We are following the published term dates. The summer term runs until Friday 17th July.
We will continue to issue guidance and updates to all parents via our normal school communication systems and on an individual basis as required.
Parent newsletters and updates
During this school closure period we have published weekly newsletters to parents which have been sent by email. Recent editions can be found below:
Critical worker provision
Schools are still required to offer supervision for children of critical workers. The school is currently open every day, offering supervised study to a small group of students. These students are those who the school and their parents have agreed should spend some of their time in school to support their remote learning. Arrangements can also be made for students who have a parent who is a critical worker to come into school for supervised study if there are specific reasons why they should not stay at home.
The Government guidance on who qualifies as a critical worker can be found here.
Any parents who believe they require supervision for their children because they are critical workers should email the school via school@lgs.slough.sch.uk with details of their circumstances.
What happens to free school meals provision while schools are closed?
We are using the national Government-funded scheme to ensure that those parents whose children normally receive free school meals have been able to obtain vouchers for use in supermarkets. The school orders the voucher codes on behalf of eligible families.
Following a recent change in Government policy, this provision will continue through the summer holidays.
Mrs Dodds, Assistant Headteacher, is the main contact all those families who are eligible for this support.
What is happening to GCSE and A Level examinations?
The public examinations for GCSEs, AS and A Levels were cancelled this year.
Students in Years 11 and 13 will receive 'calculated' GCSE and A Level grades this summer. Subject teams have proposed the grades that they believed students would most likely have achieved this summer had the examinations taken place. These grades were submitted to the examination boards by the deadline of Friday 12th June. The examination boards will apply a statistical moderation at subject level to every school in order to ensure that grades awarded are broadly in line with historical performance and national expectations
More detailed information from the Department for Education and Ofqual (the exams regulator) about the process for awarding these grades can be found here.
We have sent the following documents to parents and students in the relevant year groups.
Ofqual have also published a short video for students which explains the process in general terms. To watch the video click here.
The importance of hygiene
Personal hygiene is the most important way we can tackle COVID-19, especially washing hands more, and the 'catch it, bin it, kill it' strategy for those with coughs and sneezes.
Wash your hands more often, for 20 seconds with soap and hot water.
In addition to handwashing before eating and after sneezing, you should wash your hands after using toilets and after travelling on public transport.
Do….
cover your mouth and nose with a tissue or your sleeve (not your hands) when you cough or sneeze
put used tissues in the bin immediately
wash your hands with soap and water often – use hand sanitiser gel (although this is currently difficult to obtain) if soap and water are not available
try to avoid close contact with people who are unwell
Don't….
do not touch your eyes, nose or mouth if your hands are not clean
For a helpful video, go to https://www.nhs.uk/live-well/healthy-body/best-way-to-wash-your-hands/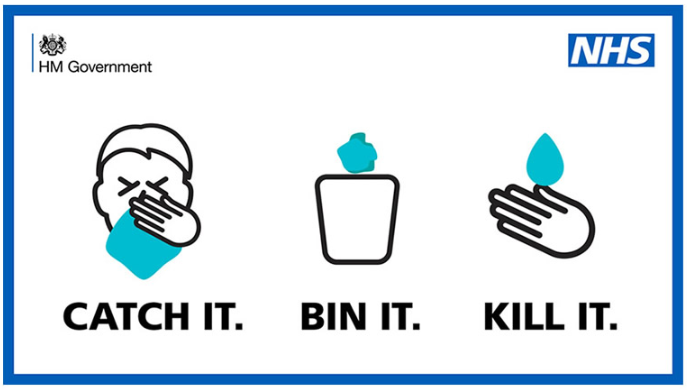 Further information
The NHS website is a good source of information about staying healthy, and advice on what to do if you have concerns about your own or your child's health....
For further updates on COVID-19.....