COVID-19 coronavirus and school closure update
UPDATED 6 April 2020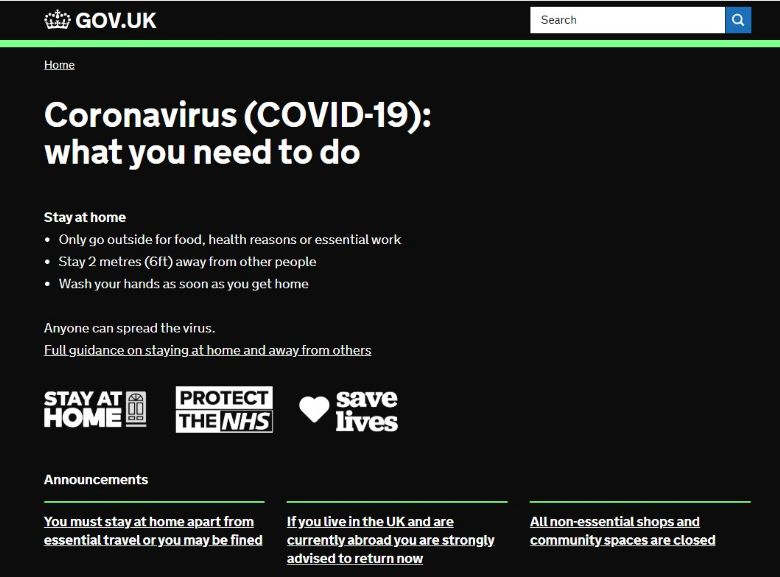 Government information on the requirement to stay at home can be found here and at the foot of this page.
Further general Government information and guidance about the coronavirus pandemic can be found here.
Current school status
School is currently closed to most students.
Students across all year groups are receiving support for their learning through a variety of distance learning methods.
We are following the published term dates. The Easter holiday period runs from Monday 6th April to Friday 17th April. The summer term starts on Monday 20th April.
We will continue to issue guidance and updates to all parents via our normal school communication systems and on an individual basis as required.
Critical worker provision
Schools are still required to offer supervision for children of critical workers.
The Government guidance on who qualifies as a critical worker can be found here.
Any parents who believe they require supervision for their children because they are critical workers should email the school via school@lgs.slough.sch.uk with details of their circumstances.
Department for Education guidance for critical workers
What if I have to leave my children unattended?
There is no law about when you can leave your child on their own but it is an offence to leave them alone if it places them at risk. As parents, you should use your judgement on how mature your child is before you decide to leave them at home.
It is important to be aware that you can be prosecuted if you leave a child alone 'in a manner likely to cause unnecessary suffering or injury to health'. If you are at all unsure, the NSPCC recommends that children under 12 are rarely mature enough to be left alone for a long period of time, children under 16 shouldn't be left alone overnight and babies, toddlers and very young children should never be left alone.
Do I have to send my child to school?
Many parents working in these critical sectors may be able to ensure their child is kept at home. Every child who can be safely cared for at home should be.
This is an offer to parents and carers and there is no requirement for parents and carers to send their children to school if they do not need or wish to do so.
What happens to free school meals provision while schools are closed?
We have been using an app system to ensure that those parents whose children currently receive free school meals have been able to obtain vouchers for use in supermarkets.
The Government has now introduced a national voucher scheme which will be effective from Monday 20th April.
Mrs Dodds, Assistant Headteacher, will be contacting all those families who are eligible for this support.
What is happening to GCSE and A Level examinations?
The public examinations for GCSEs, AS and A Levels have been cancelled.
Students in Years 11 and 13 will receive GCSE and A Level grades this summer. More detailed information from the Department for Education and Ofqual (the exams regulator) about the process for awarding these grades can be found here.
We have sent the following documents to parents and students in the relevant year groups.
Ofqual have also published a short video for students which explains the process in general terms. To watch the video click here.
The importance of hygiene
Personal hygiene is the most important way we can tackle COVID-19, especially washing hands more, and the 'catch it, bin it, kill it' strategy for those with coughs and sneezes.
Wash your hands more often, for 20 seconds with soap and hot water.
In addition to handwashing before eating and after sneezing, you should wash your hands after using toilets and after travelling on public transport.
Do….
cover your mouth and nose with a tissue or your sleeve (not your hands) when you cough or sneeze
put used tissues in the bin immediately
wash your hands with soap and water often – use hand sanitiser gel (although this is currently difficult to obtain) if soap and water are not available
try to avoid close contact with people who are unwell
Don't….
do not touch your eyes, nose or mouth if your hands are not clean
For a helpful video, go to https://www.nhs.uk/live-well/healthy-body/best-way-to-wash-your-hands/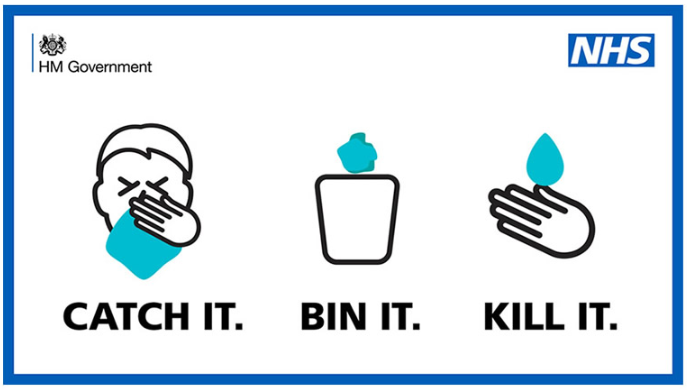 Department for Education Coronavirus helpline
The Department for Education has launched a helpline to answer questions about COVID-19 related to education. School staff, parents and young people can contact the helpline as follows: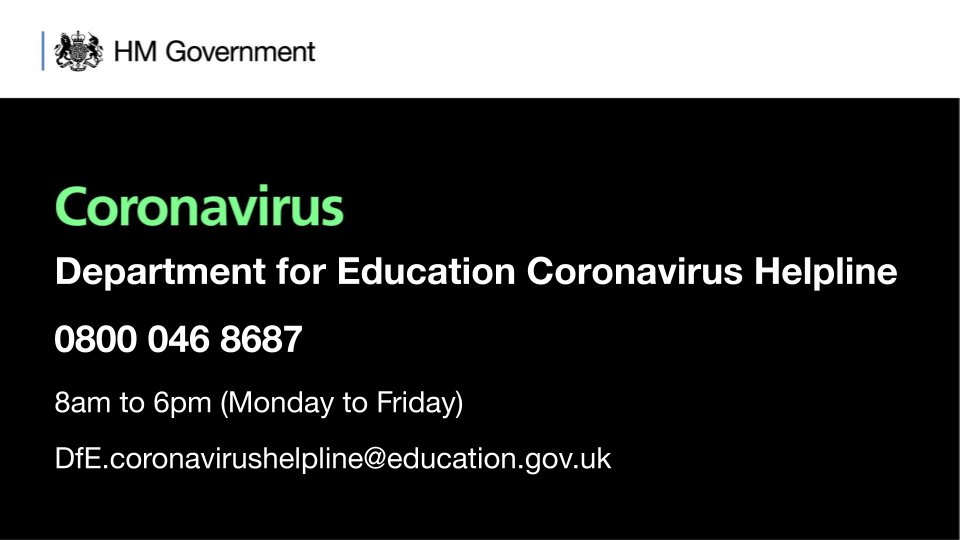 Further information
If you have concerns about your own or your child's health....
For further updates on COVID-19.....