COVID-19 coronavirus update
UPDATED 12 January 2022
How is the school operating this term?
As in the autumn term of 2021, students have returned to a situation which closely resembles 'normal' school operation. The latest Government guidance still requires us to implement a system of infection controls with four main elements:
Promotion of good hand and respiratory hygiene
Enhanced cleaning routines
Ensuring good ventilation in classrooms and other spaces.
Following public health guidance to deal with any confirmed cases of Covid-19.
The school also carried out a formal risk assessment in line with health and safety law.
What about face coverings?
Students have been accustomed to wearing face coverings in school for some months. This situation will continue until further notice in line with current Government guidance. Students should wear face coverings when they are inside any of the school buildings, unless their teacher or another member of staff clearly tells them that this is not necessary.
In practice, students will be wearing face coverings in the majority of situations where they are sitting or working closely with others. In practical subjects, and those where a level of physical activity is necessary, face coverings are unlikely to be worn.
Where possible we encourage students to bring reusable face coverings into school to reduce the issue of waste from the use of disposable masks.
Staff are asked to wear face coverings inside buildings where they are not able to ensure social distancing from others. Teachers may therefore choose not to water face coverings if they can maintain a suitable distance from students in lessons.
Asymptomatic Covid testing programme
In line with Government guidance, all students were offered one lateral flow Covid test in school during the first week back in January. Following the completion of this programme, students are again offered testing kits on a regular basis to enable them to carry out testing at home.
Please click here here for further information about the Covid testing programme.
Do students have to be in school during the pandemic?
The simple answer is yes. The legal requirement is for children and young people to be in school.
The school has no authority to authorise any absence apart from specifically defined reasons such as illness, or a requirement to remain at home because of a positive Covid case.
Parents may have understandable concerns about school attendance in the light of the spread of the Omicron variant. We are happy to discuss any concerns in order to provide reassurance and support to enable students to attend school.
---
What do I do if my child is unwell?
The following information may be helpful to parents if their son or daughter is unwell.
If you child has any of the possible COVID-19 (coronavirus) symptoms, you MUST NOT send them to school.
The main symptoms of coronavirus include:
a high temperature – this means you feel hot to touch on your chest or back (you do not need to measure your temperature)
a new, continuous cough – this means coughing a lot for more than an hour, or 3 or more coughing episodes in 24 hours (if you usually have a cough, it may be worse than usual)
a loss or change to your sense of smell or taste – this means you've noticed you cannot smell or taste anything, or things smell or taste different to normal
Most people with coronavirus have at least 1 of these symptoms. If your child is unwell but does not have any of these symptoms, they should stay at home while unwell as would normally be the case. Consult NHS 111 or your GP is you are unsure what to do.
What do I do if my child develops symptoms?
Check whether your child has a high temperature, a new continuous cough or a loss or change to their sense of smell or taste. These are the main symptoms of COVID-19 (coronavirus).
Book a coronavirus test for your child - click here to go the Government website.
Your child must self-isolate at home.
You may need to provide NHS Test and Trace with details of anyone your child has been in close contact with if they were to test positive for coronavirus (COVID-19).
What do I do if someone else in my household develops Covid-19?
If someone other than your child develops symptoms, then you should arrange for them to have a COVID-19 (coronavirus) test as soon as possible - click here to go to the Government website.
If someone in your household has symptoms of COVID-19, or has tested positive for COVID-19, other members of the household must self-isolate unless they are:
fully vaccinated – this means 14 days have passed since your final dose of a COVID-19 vaccine given by the NHS
under 18 years, 6 months old
taking part or have taken part in a COVID-19 vaccine trial
not able to get vaccinated for medical reasons
Even if you do not have symptoms, you are strongly advised to:
do daily rapid lateral flow tests (1 a day for 7 days), if you are fully vaccinated, to protect yourself and others from COVID-19.
follow advice on how to avoid catching and spreading COVID-19
consider limiting contact with people who are at higher risk from Covid-19
The following chart (with thanks to a local headteacher group) shows the current position for children returning from isolation after a positive test: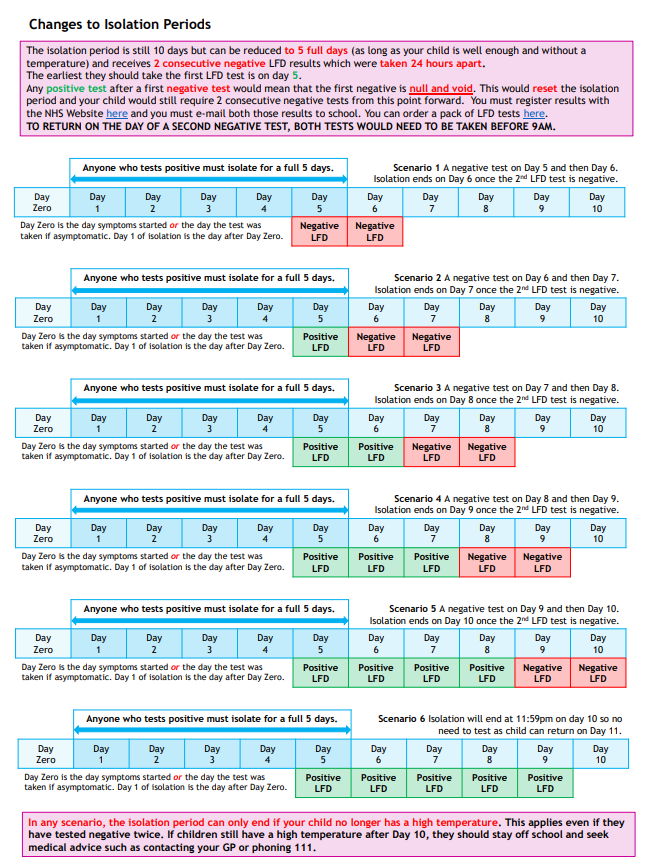 How will the school handle a confirmed case of COVID-19?
If a case of COVID-19 is confirmed within the school community, the school will follow guidance from the Government, the NHS and local public health authorities.
In the event of a confirmed case of COVID-19, close contacts of that student will be identified and contacted by NHS Test and Trace. Close contacts are currently not required to self isolate, but will be advised to take daily LFD tests for seven days. Schools are no longer specifically required to carry out contact tracing but may be asked to assist NHS Test and Trace.
What is a 'close contact'?
Close contacts are usually defined as those who have spent
more than 15 minutes within 2m of a confirmed case, or
a shorter time at a distance of 1m or less, for example face to face
Further Government guidance and useful information
The Government and Public Health England have produced useful information on coronavirus which can be accessed as follows: