COVID-19 coronavirus update
UPDATED 17 March 2021
School is now fully open
Langley Grammar School reopened to all students in the week commencing Monday 8th March.
Do students have to come back to school?
The simple answer is yes. During the lockdown, the legal requirement for children to attend school was suspended. This has now been reversed and from Monday 8th March, the legal requirement is for children and young people to be back in school.
The school has no authority to authorise any absence apart from specifically defined reasons such as illness, or a requirement to remain at home because of association with a positive Covid case.
Parents may have understandable concerns about the return and we are happy to discuss these to provide reassurance and support to enable students to attend school.
How is the school operating?
Students have returned to a very similar situation to that in the autumn term of 2020. The Government guidance requires us to implement a system of controls similar to that in the last term; this includes keeping year groups separated as far as possible, using base rooms for as many lessons as possible, and staggering the break and lunch times. There are also be the same separated social zones and catering arrangements.
There have been some changes to the guidance which are important. For example, there is an increased emphasis on good hand hygiene, washing hands or using sanitiser when arriving on site, when returning from breaks, before eating, and when changing rooms. As in the Autumn term, we have ensured that the appropriate control measures are all in place and staff have been asked to ensure that students follow the procedures.
In September 2020, in response to Government guidance, we made a number of changes to how the school operated. These are described in detail in the following guidance document:
The school continues to operate under broadly the same principles and procedures, so the majority of information in this document remains valid.
The school also carried out a formal risk assessment in line with health and safety law. The risk current assessment document can be found by accessing the link below. The document reflects the procedures and control measures described in the guidance for parents and students.
What about face coverings?
In the Autumn term 2020, we asked students to wear face coverings on site, removing them in classrooms for lessons or when eating.
From 8th March, the Government is strongly recommending that face coverings are worn indoors in all situations where social distancing cannot be guaranteed. This includes in classrooms for lessons. We have therefore decided that:
Students are expected to wear face coverings when they are inside any school building, including in lessons.
Where the wearing of face coverings is impractical or inappropriate, for example, in PE or some practical subjects, students are able to remove them.
Students are able to remove face coverings when outdoors. The scientific evidence is that the risk of virus transmission is significantly reduced outside.
We ask that students bring reusable face coverings and not paper ones as they may be putting them on and taking them off several times each day. They should have more than one so that a clean covering can be used each day.
We recognise that for various reasons some students will not be able to wear face coverings as expected. If this is the case, we ask that parents discuss this with us so that we can understand the reasons and support the student appropriately.
The Government is due to review the recommendations about face coverings at the end of the Spring term.
Asymptomatic Covid testing programme
In line with Government guidance, all students have been offered three Covid tests in school during the first two weeks back. Following the completion of this programme, students will be offered kits to enable them to carry out testing at home.
Please click here here for further information about the Covid testing programme.
What about free school meals?
We will continue to support those families whose children are entitled to free school meals by issuing food vouchers to cover the Easter holiday period. We will not be using the Government's national scheme but will continue to use our own voucher programme which families involved will be familiar with.
Mrs Dobbs, Assistant Headteacher, will contact any families entitled to free school meals with further details. Parents with any questions or concerns should contact her via school@lgs.slough.sch.uk.
---
What do I do if my child is unwell?
The following information may be helpful to parents if their son or daughter is unwell.
If you child has any of the possible COVID-19 (coronavirus) symptoms, you MUST NOT send them to school.
The main symptoms of coronavirus are:
a high temperature – this means you feel hot to touch on your chest or back (you do not need to measure your temperature)
a new, continuous cough – this means coughing a lot for more than an hour, or 3 or more coughing episodes in 24 hours (if you usually have a cough, it may be worse than usual)
a loss or change to your sense of smell or taste – this means you've noticed you cannot smell or taste anything, or things smell or taste different to normal
Most people with coronavirus have at least 1 of these symptoms. If your child is unwell but does not have any of these symptoms, they should stay at home while unwell as would normally be the case. Consult NHS 111 or your GP is you are unsure what to do.
Please read the following information carefully. It explains what to do if your child develops COVID-19 (coronavirus) symptoms, or if someone else in your household does.
What do I do if my child develops symptoms?
Check whether your child has a high temperature, a new continuous cough or a loss or change to their sense of smell or taste. These are the main symptoms of COVID-19 (coronavirus).
Book a coronavirus test for your child - click here to go the Government website.
Your child must self-isolate at home.
Everyone in the household must self-isolate until your child's test result comes through.
You may need to provide details of anyone your child has been in close contact with if they were to test positive for coronavirus (COVID-19) or if asked by NHS Test and Trace.
What do I do if someone else in my household develops symptoms?
If someone other than your child develops symptoms, then you should arrange for them to have a COVID-19 (coronavirus) test as soon as possible - click here to go to the Government website.
Your child (and anyone else in the household) should self-isolate for 10 days if another member of the household.
has symptoms of coronavirus and tested positive, had an unclear result or did not have a test
tested positive but has not had symptoms
Your child can stop self-isolating after 10 days if they do not develop any symptoms of COVID-19 (coronavirus) – a high temperature, a new continuous cough or a loss of taste or smell.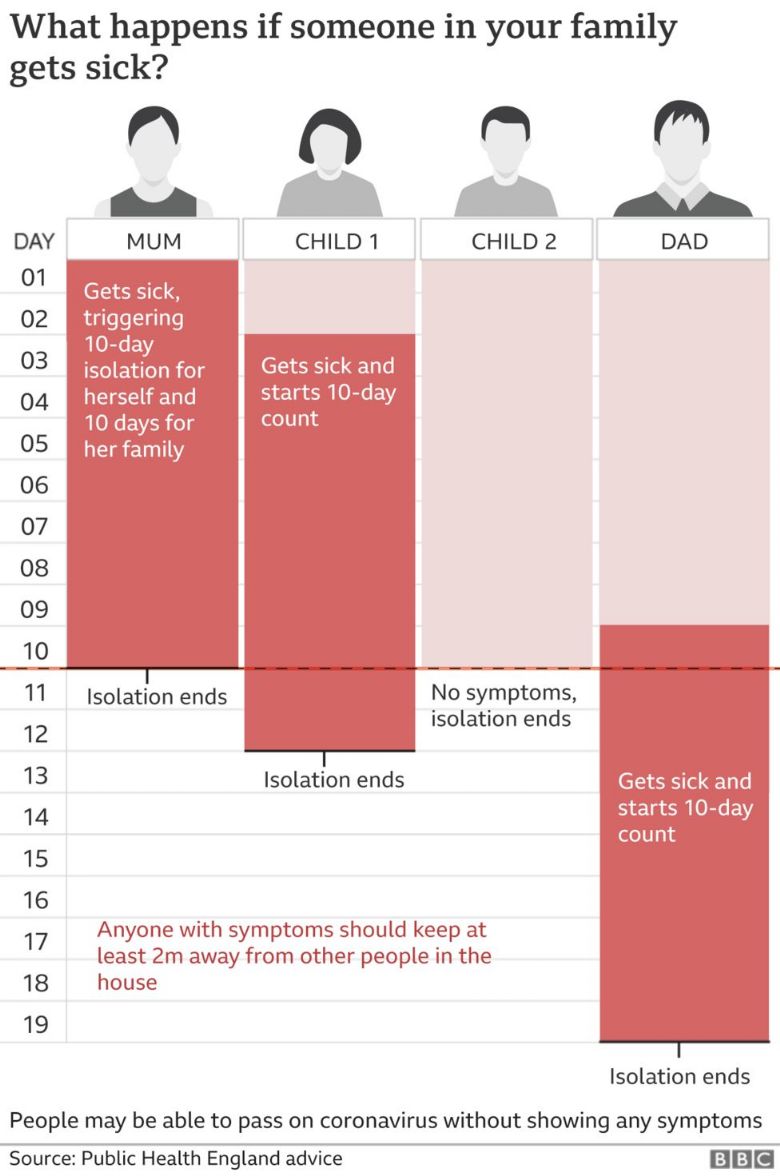 How does the school handle a confirmed case of COVID-19?
If a case of COVID-19 is confirmed within the school community, the school will follow the procedures outlined in the DfE guidance and additional guidance from Slough Borough Council. This involves seeking immediate advice from the Department for Education in terms of how many students we should be asking to self-isolate and for how long. Slough Borough Council would also be informed of the details of the confirmed case.
In the event of a confirmed case of COVID-19, the basic strategy is to ask all close contacts of that student to self-isolate at home for a period of 10 days.
What is a 'close contact'?
Close contacts are those who have spent
more than 15 minutes within 2m of a confirmed case, or
a shorter time at a distance of 1m or less, for example face to face
We know who the main close contacts within lessons are from our seating plans. We identify the students sitting in front, behind and to the sides of the confirmed case, over the two days prior to the confirmed case having developed symptoms or receiving a positive test result. We also ask those students judged to be close contacts during social time to self-isolate. Where students do not have fixed seats in rooms, for example during practical subjects, we ask the teachers for details of the groups with which the affected student had worked.
By identifying the close contacts in this way, in line with the Department for Education guidance, we can minimise the number of students who need to self isolate in the event of a confirmed case. We would not expect to send the whole year group home unless we were very uncertain as to who counted as close contacts.
It is essential that any students sent home to self isolate do so for the full 10 days from their last contact with the affected person. If they develop symptoms themselves, they should obtain a coronavirus test. If they do not develop symptoms, or if a test proves negative, they should still isolate for the full period.
What about teachers?
Teaching staff are asked to maintain 2m social distancing from students in lessons, and our classrooms are set out to enable this. Where this distancing is not possible, or where closer support for students may be needed, staff may use face shields or Perspex screens to put a physical barrier between themselves and the students. it is therefore unlikely that staff would count as close contacts of students.
General advice for students and families outside school
Please follow the Government guidance when outside the school
Hands, Face and Space
Wash your hands often
With soap and water for at least 20 seconds. If soap and water are not available, use hand sanitiser that contains at least 60% alcohol.
Wear a face covering
On public transport, in indoor public spaces, in other places where social distancing is difficult or not possible.
Keep your distance
When you are outside your home or meeting people you do not live with or who are not in your support 'bubble'. You should be 2 metres apart where possible - 1 metre plus when not possible.
The importance of hygiene
Personal hygiene is the most important way we can tackle COVID-19, especially washing hands more, and the 'catch it, bin it, kill it' strategy for those with coughs and sneezes.
Wash your hands more often, for 20 seconds with soap and hot water.
In addition to handwashing before eating and after sneezing, you should wash your hands after using toilets and after travelling on public transport.
Do….
cover your mouth and nose with a tissue or your sleeve (not your hands) when you cough or sneeze
put used tissues in the bin immediately
wash your hands with soap and water often – use hand sanitiser gel (although this is currently difficult to obtain) if soap and water are not available
try to avoid close contact with people who are unwell
Don't….
do not touch your eyes, nose or mouth if your hands are not clean
For a helpful video, go to https://www.nhs.uk/live-well/healthy-body/best-way-to-wash-your-hands/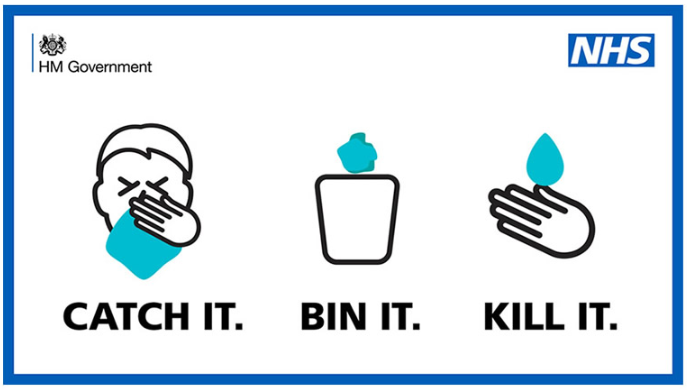 Further Government guidance and useful information
The Government and Public Health England have produced useful information on coronavirus which can be accessed as follows: