Project overview
The project will see the old school building - known in school as the '1956 building' - demolished and replaced with new accommodation. The new buildings are designed to ensure that the school has sufficient accommodation for around 1250 students - the final size when our expansion from 5 to 6 forms of entry has worked through by 2023.
The project involves three phases - essentially the construction of two new blocks separated by the demolition of the original school building.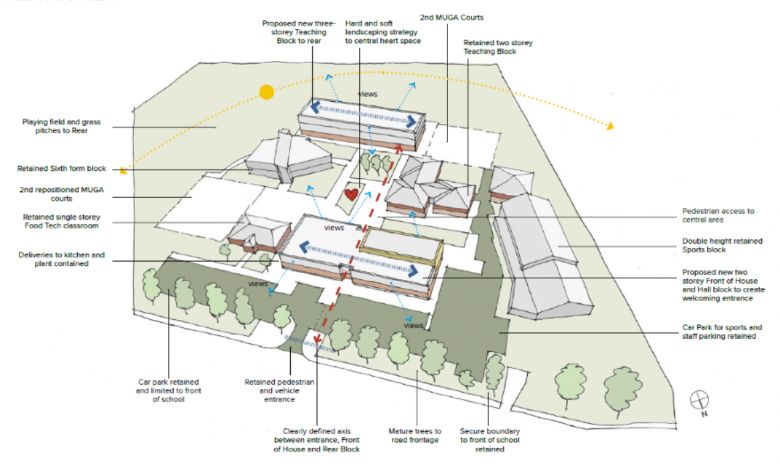 The project is part of the Department for Education's Priority Schools Building Programme. The DfE is responsible for approving the overall design and the majority of the funding.

The DfE has also appointed the contractor Wates Construction using the normal government procurement framework.
The school has been closely involved throughout the design process to ensure that the final buildings are suitable for the schools needs in the future.
Timescale
The planned timeline for construction is as follows:
From Feb 2019

Set up contractors' compound and access road to back of school.
Build new 2-storey teaching block on the current hard court area
Set up temporary accommodation Nov/Dec 2019

Feb 2020

Move subject teaching to new block.
Set up temporary accommodation on remaining hard courts for dining room, kitchen, library, staff and admin offices etc

From March 2020

Demolish the old 1956 buildings
Begin site landscaping

From July 2020

Build new 2-storey 'Front of House' block
Lay new hard courts at front of school
Complete site landscaping

July 2021

Move from temporary accommodation into new 'Front of House' block
Reinstate hard courts at rear of school
How is the project funded?
The total value of the project is around £18 million. The Department for Education is providing roughly £14 million to cover the direct cost of replacing our current level of accommodation. Slough Borough Council is contributing about £3.4 million to cover the additional accommodation required for the school's expansion.
The school is contributing just over £500,000 to cover the cost of some additional features, such as the dance studio and the new music room, which the Priority Schools Building Programme does not provide. The school's contribution will be funded through the sale for redevelopment of the old caretaker's house and surrounding plot of land. Permission to sell this part of the school site has been granted by the Secretary of State.
There are additional costs associated with the provision of furniture, fixtures and fittings. The school has some capital reserves, and we also have our Development Fund to which parents have contributed. However, the current level of funding available does not yet match the amount needed to fit the buildings out to the standard we would like and we will be encouraging parents to make further donations to the Development Fund in different ways to support these additional costs.