Zambia Training Weekend March 2016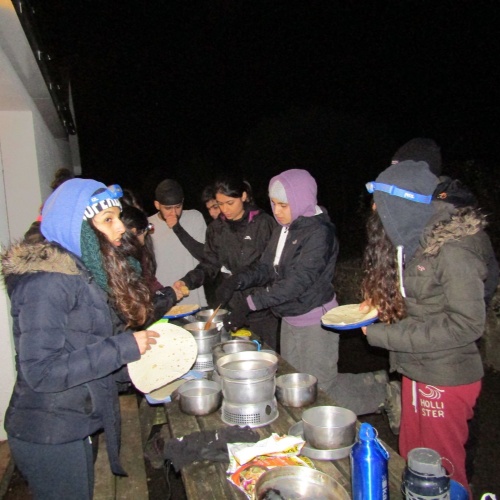 Training for Zambia in the cold
On Friday 4th March, 27 year 12 students travelled to East Dean Sussex to begin our Zambia training weekend, unaware of what challenges were ahead of us. Upon arrival we spilt off into 2 smaller expedition groups ready for our brief and introduction to our leaders Brin and Lottie inside the centre. We began by introducing ourselves and stated why we decided to sign ourselves up for this great opportunity. Many of our reasons for joining included helping those who are less fortunate, discovering ourselves, utilising opportunities provided as well as the chance to travel.
Chanvir was then designated team leader and allocated us roles within the team. Our team work skills were put to the test as we began to put up our tents on the field and started preparation for our first meal in the cold conditions. Kidney beans without flavour and sticky rice was what we made of the ingredients we had bought prior to the weekend. Nevertheless, we all sat together and enjoyed discussing our day over the table. The group then all lingered inside to discuss first aid and other important information regarding the actual expedition. Followed by a group bonding session before we were ready for a good night's sleep after a long day, well so we thought. The biting cold and uneven ground meant an early rise for all; a roll mat just doesn't do the job. Our group munched on Weetabix and bread whilst craving the warm meal the other group were preparing. However, we were shortly on our way after lunch preparations and didn't have any dishes to clean!
I was appointed leader for our trek and eventually got us back safe and sound after what seemed to be a long day of map reading and walking uphill. Our faces lit up at the sight of the warm centre equipped with lifesaving radiators after completing the trek. Ismail then took charge in preparation for our final meal of pasta, splitting us into a cooking and cleaning team. The warm pasta was much appreciated by us all topped off by our dessert of chocolate bars. After the cleaning team had cleared up we sat together and played games including cards and charades, all essential for team bonding! Kajol was now in charge of morning preparations, involving wake up calls and breakfast. Yet again, many of us failed to get the rest we required however the conditions were warmer than the night before so I personally had a decent night's sleep! The mood of the camp on Sunday was one of relief as we were all ready to go home and see our Mums for Mother's day. We took down our tents, cleaned the camp and thanked our leaders for guiding us over the weekend. Despite the lack of sleep we all had a good time in each other's company and can't wait to go to Zambia.
Written By Gabrina Tiwana (6O)