Slough Youth Orchestra Perform at the Curve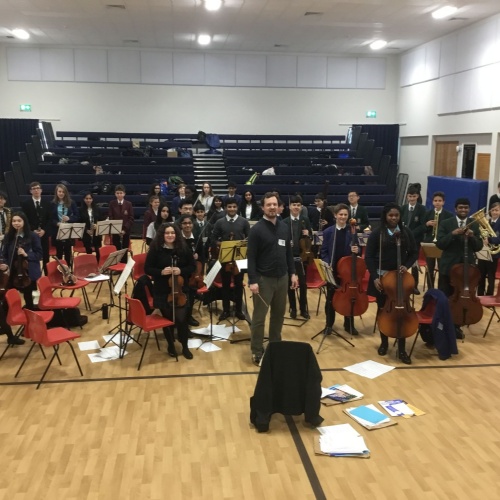 On the 20th March, students from Langley Grammar, St Bernard's Catholic Grammar school and Upton Court Grammar school formed the Slough Youth Orchestra and performed at the Curve arts venue in Slough.
This article was written by Seun Odulana and Kiera Botes in 8R.
Following the first rehearsals and performance, that took place in December 2017, we joined together again to produce a second performance that was just as good as the last. The two rehearsals were on the 12th March and the 16th March; both of which were during the school day. The rehearsals were held at Upton Court Grammar school where we practiced and perfected pieces such as a selection of songs from The Wizard of Oz and the Theme from New York.
The conductor of this project was Tom Horn, who has experience as a musical director and conductor of many orchestras including, High Wycombe Youth Orchestra and the Charity Symphony Orchestra. As well as this, David Batsman (of Langley Grammar) conducted an arrangement of Slavonic Dance by Dvorak.
It was a wonderful opportunity to be able to play in a big Orchestra. It helped with confidence when performing in front of an audience and also the ability to listen and to help each other. It was an exciting project and we gained a lot of experience from it. A special thanks to Mr Batsman and Mr Wilkinson for helping to organise this event and giving us the opportunity to belong to an ensemble with more challenging music to play.