Year 7 Bang On Drum Workshop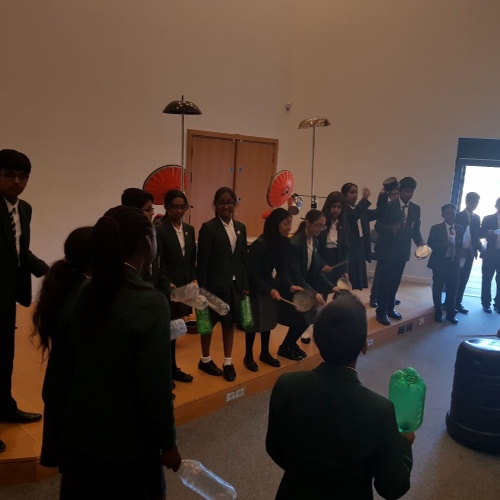 On Monday 2nd July 2018, 'Bang On!' a percussion duo, came to Langley Grammar School to perform and to teach us how recycling materials can be used to make music.
This article was written by Muhammad in 7S.
Bang On! consists of two members; Katie Stephenson and David Smith.
Katie started playing the drums at eleven and took up percussion a few years later. Katie studied music at Brunel University, where she received the Griffin prize. She then composed and performed music. She has composed music for bands, percussion groups and orchestras. Katie now teaches people to play the drums, including students at LGS!
However Dave took a different approach. He started with violin and progressed to grade 8, after which he taught himself to play the drums. Like Katie he went to university to study music. He has performed with DJs, orchestras and various bands. He likes to improvise and compose music. As well as being a dedicated member of Bang On, Dave performs as a freelance musician, plays percussion for dance classes and plays the drums for the Wessex Pistols.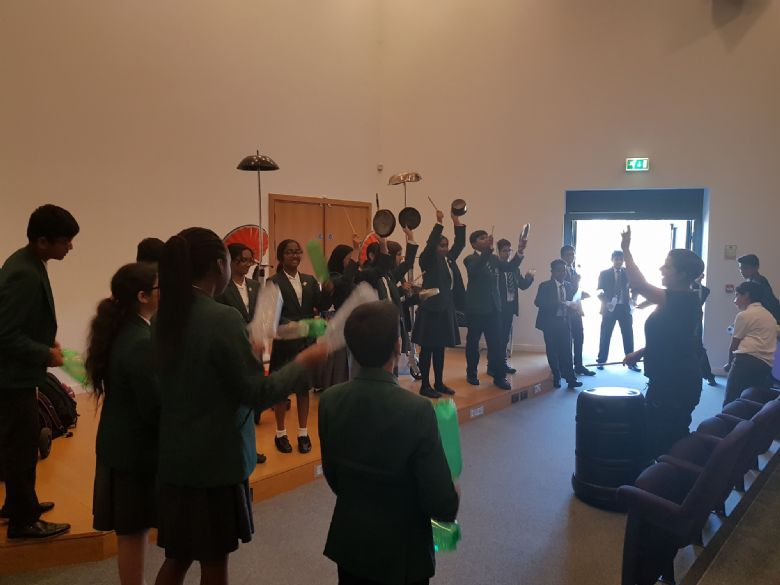 Katie and Dave started their performance by announcing "We're Bang On! and we play rubbish"! What they actually meant was that they were going to play instruments made using recycled materials. Their musical instruments consisted of old bins, pans, dog toys, colanders, plastic bottles, and shakers made of cups containing rice. I was both amused and confused at the same time! They entertained us with a lively, upbeat performance that captivated the Year 7 audience.
Later on in the workshop, we had an opportunity to create our very own music using recycled objects such as bottles and pans. Our form split into two groups, and each composed their own music before we came back together to perform for each other.
Overall this experience has taught us about the importance of saving the environment by re-using and recycling materials to repurpose and have fun at the same time.