Langley Grammar students shine in Berkshire Regional Literature Quiz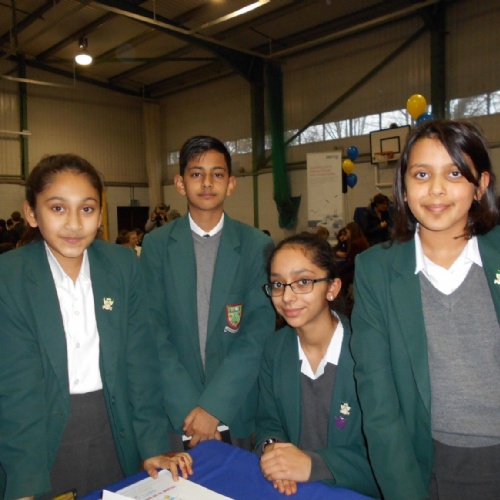 Four students from Langley Grammar achieved second place in the Berkshire Regional Heat of the Kids' Literature Quiz hosted by famous quizmaster Wayne Mills.
This article was written by the students attending.
When we arrived, we were early so we had a chance to buy books and get them signed by one of the visiting authors, which included Jo Cotterill. Then, there were 5 rounds of questions. Each round contained ten questions, for which we were allowed to confer. Once we had decided on an answer, one person had to write down the answer on a sheet. The rounds included Abbreviations, Teeth, Hair and Dogs. After this, we had a short break, where we ate biscuits and drank squash, served by the school.
Then, it was back to the quizzing, with another 5 rounds. We had selected Reptiles as our Joker round, so we could get double points on this. We scored 9 out of 10, doubling our score to 18. In between the rounds, some quick-fire questions were asked, giving us the opportunity to win prizes such as books and money. Unfortunately, we didn't manage to get any of these questions, but we did each get a free book for being the highest scorers for one round (Masks). We actually managed to be the highest scoring team in "Snow and Ice" too, but sadly there were no prizes this time, as we had already received prizes for a round.
At the end, the winners were announced. In third place, three teams were tied: Didcot Girls' School, Magdalen College School Team 2 and Our Lady's Abingdon Team 1. They were asked a sudden death question, which Our Lady's Abingdon won. In second place was Langley Grammar School, with 80.5 points, only a point and a half away from first place! We were each given a £15 gift card to spend on books. In first place was Magdalen College Team 1, who will be progressing to the nationals in London.
Overall, we really enjoyed the visit and would like to say thank you to Ms Shine and the English department, who organised the trip.