Year 12 Geographer's in Northern Ireland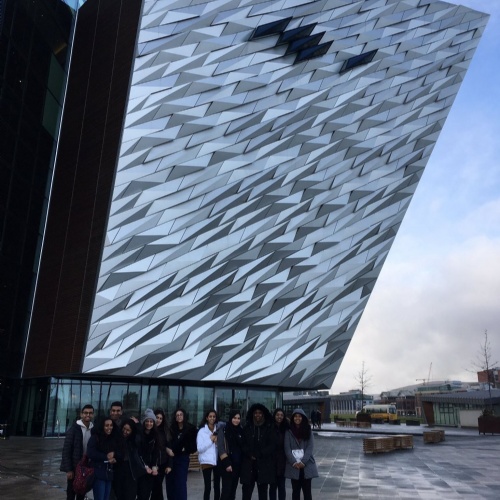 Our Year 12 Geography class recently took a trip to Northern Ireland to study the human and physical factors that shape the area.
This article was written by Hana and Hira in Year 12.
Studying the coastal management, geological construction and land use along the North Antrim Coast was an experience that brought our theoretical work to life. We visited the Giants Causeway, Northern Ireland's first UNESCO Heritage Site, an astonishing, naturally formed location, which is also great for some scenic pictures. We observed erosional processes in action at a series of bays and headlands. We carried out several examinations and surveys, many of which included the use of iPads, for example, we used the clinometer app to measure the angle along the coast, and examined the dominant rock type at each location, we later input our results into a spreadsheet that provided us with data that can be used during later discussions and assessments.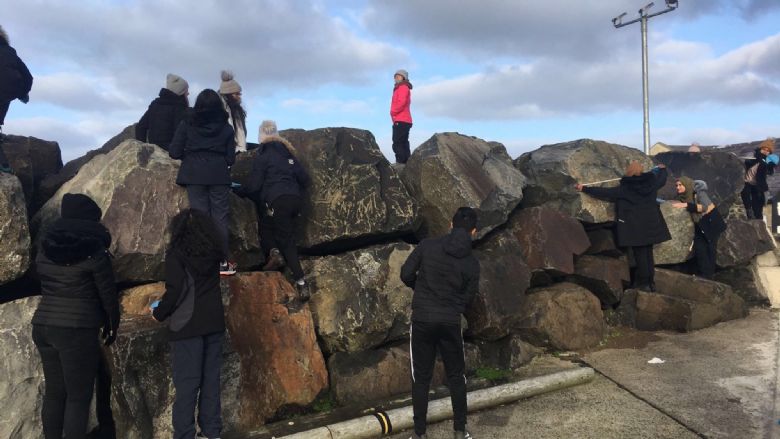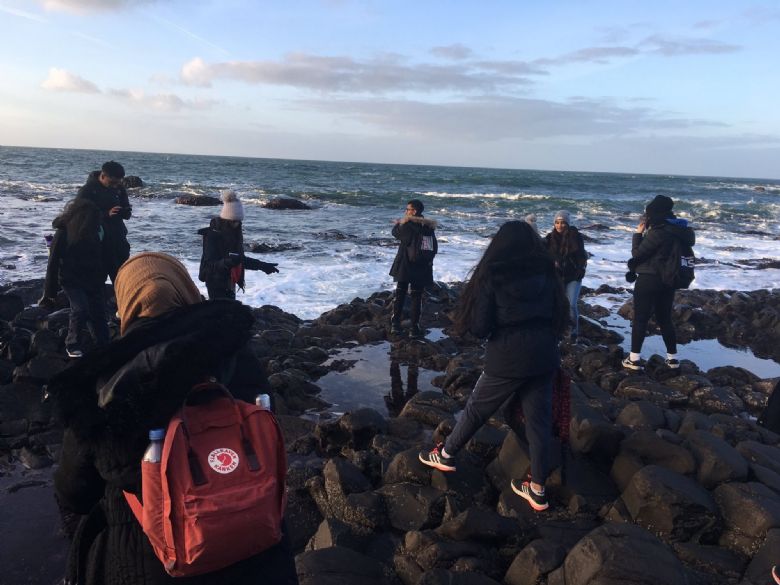 An hour train journey to Londonderry allowed us to appreciate the natural beauty of Northern Ireland further, and prepared us for a day of detailed Northern Irish history. Visiting the Guildhall in Derry, we learnt about the history of the plantation that brought culture and diversity to the state, but also stood as a foundation for the Troubles. We walked within and outside the walls that separated the Protestants and the Catholics previously, examining different artefacts and structures that depicted many years of history and conflict. We recreated pictures from our lessons and walked along the Peace Bridge, assessing the quality of certain infrastructure on our ArcGIS survey. We considered the impact of Brexit on Northern Ireland during our evening debate, and argued the validity of our hypothesis. On our last day, we enjoyed some canoeing in the river, provided by the friendly centre we stayed in. It made some unforgettable memories as a class. The trip was significantly informative and accessible in terms of allowing us to apply our lesson based knowledge to real, physical surroundings, and has clarified our understanding significantly. Our thanks to Mr Mace for organising and for the staff who looked after us throughout our stay.