Year 8 History Trip Tower of London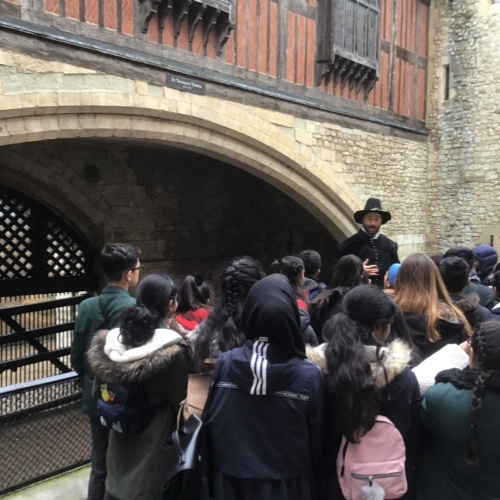 On Thursday 14th March, Year 8 went to the Tower of London to learn about this history of perhaps England's most famous castle.
This article was written by Kiran in 8R.
We went on this trip as part of our History curriculum. The Tower of London was the site of many key events through history such as the execution of Anne Boleyn and the place where the Gunpowder Plot prisoners were held. Upon arrival, we had a look around the White Tower, which was built by William the Conqueror in the 1080's. Inside the building was a chapel, a Royal Armouries exhibition and even a huge dragon made of ammunition!
Before long, we were ready for our tour. We were greeted by a dressed medieval tour guide who told us what crime and punishment was like in the Tower. People were imprisoned and executed because of the Catholic practices that were banned during the Elizabethan Period. Inside the Salt Tower, we could see the many carvings on the walls that were marked by the imprisoned Jesuits. They were religious markings such as wounded body parts. We had lots of fun listening to stories of famous prisoners of the Tower; one being John Gerard who escaped with only an orange!
Afterwards, we went to see the Crown Jewels. The regalia shone as we were taken around the Jewel House on a conveyor belt. The Crown Jewels were clearly the highlight, with 23,578 stones! It was the best part of the day for some. Overall, we had a terrific time and we learnt a lot about the Tower. Year 8 would like to say thank you to all the teachers who accompanied us and a big thank you to Mr Langford, who organised the trip.