Digital Schoolhouse Overwatch E-Sports Tournament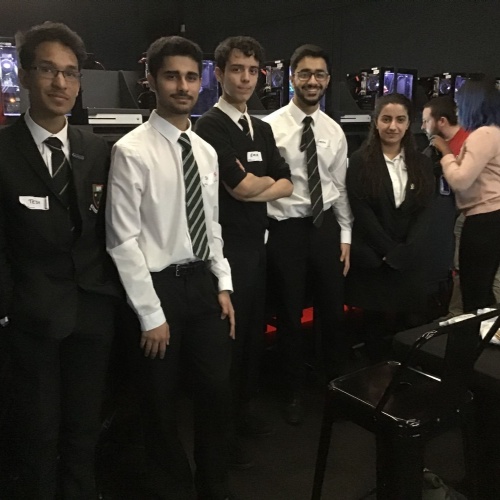 During the spring term the computing department had been running an E-Sports knockout tournament, where student played Overwatch in 3 v 3 heats. Mrs Jenkins explains more below.
The winning team named 'No Mercy' which consisted of Hassan, Emir and Manvir from year 13, had the opportunity to represent Langley Grammar School as our champions. Other roles were available for students and Joshan from year 11 was our shoutcaster and Amritesh from year 12 was our events manager. The champion team, shoutcaster, events manager and Simone Decardi-Nelson our E-Sports mentor from SEGA, went to the regional qualifiers in Belong Stratford to compete with other schools. We came third, and the whole day was a competitive and exciting event. One of the team gives their perspective below.
"This event was a great experience and I am glad I went. I came to realise how many paths your career can take in the E-Sports Industry. Since gaming is a relatively new area, it is gaining more and more popularity. The industry is demanding but exciting. The E-Sports tournament was an excellent way to get to know about the industry, a good opportunity to make links with professionals, and network with people form SEGA, Ukie and Playstation. I appreciated the chance to take part and would encourage other students to get involved if they get the chance."