Brass band perform at Eton College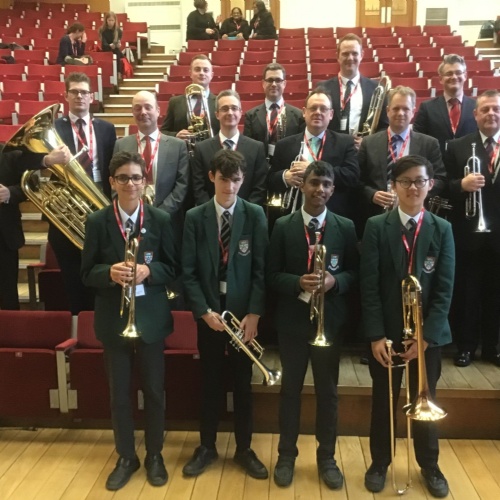 Students from Langley Grammar recently attended a brass workshop that culminated in a spectacular concert at Eton College.
Ahmed in year 9 takes up the story ...
With an excited and eager mood, we left Langley Grammar School just before lunch. At arrival, we were greeted by the event organiser and we made our way to one of Eton's concert halls, just in time to see the spectacular Queen's Household Division Band warming up. I was amazed at the sheer talent and skill they portrayed!
We were then assigned one member of the band each to mentor us throughout the afternoon, and before long we were making music. The conductor of the band explained some effective warm-up techniques which was followed by a Tudor ballad called "Pastime with Good Company" written by Henry VIII himself!
Following this, we split up into lower and higher brass groups where we rehearsed a variety of pieces in these smaller sections. The pieces we played throughout the evening were: "March of The Resistance" from Star Wars (by John Williams); "Pastime with Good Company" (by Henry VIII) and "The Carnival of the Animals" (by Camille Saint-Saëns).
After thorough sectional rehearsals, we reunited and ran through the pieces some more times until we could play them well, with the help and expertise of the band. It was now time for the concert, where we would display the fruits of our work to our parents. As an introduction, the band played a fanfare on an array of different trumpets. They had played this particular fanfare at the Queen's Diamond Jubilee!
After this marvellous performance, the whole ensemble played our first piece of the afternoon, "Pastime with Good Company". This was then followed by select movements from "The Carnival of the Animals". To end the concert, we played the explosive and energetic "March of The Resistance".
After this superb experience, we can all say we learnt something and had plenty of fun. It was truly a special opportunity, spending time with such great musicians and we will be sure to remember it throughout our musical education!
We would like to thank the Queen's Household Division Band, Eton College for hosting the event and Mr Batsman for organising the trip and so we could benefit from this fantastic experience!