DofE Celebration Event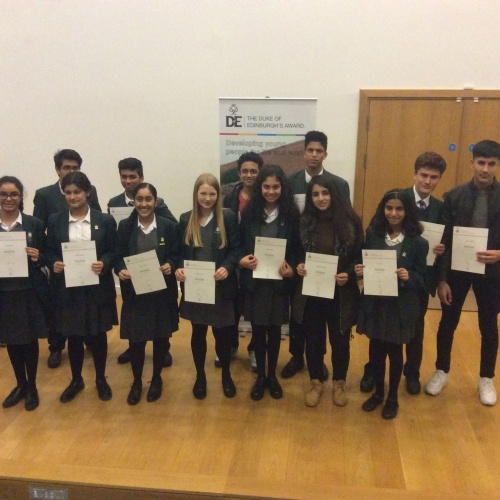 The success of our students who achieved their Bronze and Gold Duke of Edinburgh Awards was recently marked at our second DofE celebration event of the autumn term, just before Christmas.
Mr Pascall, Duke of Edinburgh Award Manager describes the event below.
Parents and students were invited and congregated in the foyer of the sixth form centre for drinks and "nibbles" before the more formal celebration started in earnest in the lecture theatre.
Over a dozen, Year 11 students received their Bronze Award. To complete the volunteering, physical and skills sections of the award they participated in a wide range of activities. Some students helped out at a youth club, others at a Scout groups, while others volunteered at their local Sikh Temple. For their physical section, students took up a range of sports including swimming, table tennis and tennis. For skills, some students learnt Mandarin, while others learnt to sing and still others to shoot!
We were also extremely proud to have two of our Gold Award holders present who together delivered the main address to the students and parents in attendance. They will both be awarded their certificates at St James's Palace in London, but we were able to present them with a broach and badge to recognise this special achievement. We hope that this will inspire many more of our Year 11 students to complete and then receive their Bronze Awards in the weeks and months ahead.
On behalf of the school, I would like to say a huge, "well done" to all the students involved.