'Friendship in Music' Concert at ACS Egham International School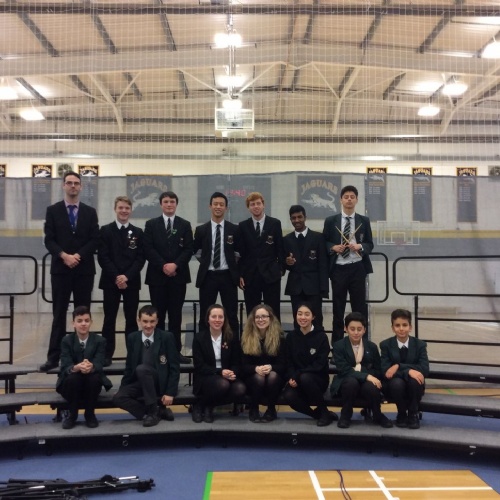 On Tuesday 7th February, students in the school Jazz Band and the FlexEmble went to ACS Egham as part of an annual 'Friendship in Music' concert.
This article was written by Ahmed Elakehal 7H
Alongside Castleview Primary School, St Bernard's Catholic Grammar School and this year's host, ACS Egham, we performed different compositions to each other and played two joint pieces as a finale.
After a thorough rehearsal of our musical pieces for the last few weeks, we were ready to perform and see the wonderful showcase of talent. Our own Sixth form band, FlexEmble (members: John Carlton, Rebecca White, Vikki Yan, Alice Palmer, Ben Randhawa-Hiscock and Alex Chan), played 'Triston' by Astor Piazzolla and 'Hallelujah' by Leonard Cohen, where our vocalist David Karapetian (year 7) received a huge ovation.
Our pianist Vikki Yan gave an outstanding solo performance of the 2nd movement of Beethoven's Sonata in C minor. There were also opportunities for pupils in our Jazz Band (Ahmed Elakehal, Sam Jessop, Maaroothen Ganeshalingham, Joshua Old, Harry Way, Alice Palmer, John Carlton, Vikki Yan, Alex Chan), to demonstrate their talent and play the Sesame Street Theme by Joe Raposo.
My favourite pieces however, were the compositions sang and played by all 4 schools, 'Imagine' by John Lennon and 'Cissy Strut' by The Meters. I think that having joint pieces really explains the meaning of 'Friendship In Music' and the purpose of the event. These concerts have been happening since 2008 and next year it will be the 10th anniversary of 'Friendship in Music' hosted by St Bernard's Catholic Grammar School. A big thank you to ACS Egham for hosting the event and to Mr Wilkinson and Mr Batsman for their tireless work and making this possible. We all really enjoyed it!