Record Currency Management Insight Day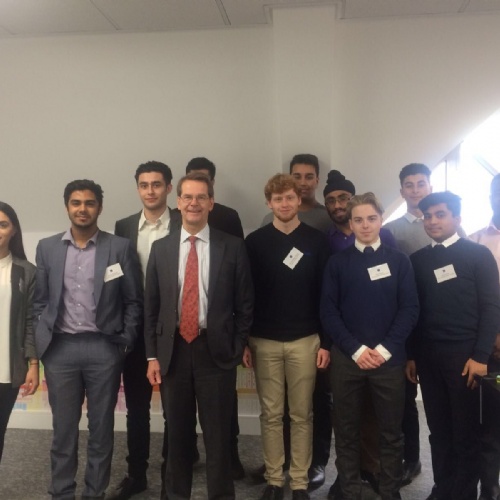 Instead of spending Valentine's day with our loved ones, four Year 13 Langley Grammar students and Ms Golding spent the day attending an Insight Day organised by Record Currency Management at their office in Windsor. Below is Head Boy Ben Randhawa-Hiscock's account.
We were accompanied by students from Herschel Grammar School and John Hampden Grammar School. The insight day had been arranged to provide local grammar school students with knowledge about the investment management industry and specifically, about currency management.
The day began with a talk from the founder of the firm, Neil Record. Mr Record discussed the types of financial markets within the industry, highlighting the intricacies of the fascinating futures and derivatives markets, where it is possible to earn millions from contracts that pay when the weather in January is hotter than expected! Mr Record also spoke about his own career and how he founded Record Currency Management. His presentation gave us an appreciation of the range of career paths available within the industry and the necessary qualities required for them.
The next speaker was Karis Stander from Investment 2020, an organisation who assist school leavers in finding work in investment management firms. Ms Stander gave us guidance on apprenticeships and placement years. Despite most attendees being hopeful university students, it was interesting to discover alternative methods of securing jobs within the industry.
We had the opportunity to meet some of Record's employees and hear about their current jobs and their career journeys. Having the opportunity to speak to employees gave us an insight into the environment of an investment management firm – the main message being it's the opposite to its Hollywood depiction. Talking to people with different roles in the firm meant we could assess what career would suit us best, and then gather advice on what we needed to do next.
After a delightful buffet lunch, we enjoyed several games of pool and table tennis with some company employees, taking far longer to finish than we probably should have.
The event was thoroughly enjoyable, and very insightful; we walked away more knowledgeable about potential careers within the investment management industry and the skills and qualifications required to get there.
We would like to thank Record Currency Management and Ms Golding for organising the event and making our attendance possible.