Reading Crown Court Mock Trial
On Saturday 18 March, Mr Wolters took a group of students to Reading Crown Court to take part in a Mock Trial Competition. Students were split into two teams, defence and prosecution, and set the challenge of arguing their case, using evidence of a fictious burglary. Megha Basu (8S) explains more below.
In the weeks leading up to the trial, during Monday and Wednesday lunchtimes, we all looked at the case and took note of the important details such as the weak points in the case or the things that didn't quite make sense. Once we were allocated to our roles, such as lead prosecutor or defence witness, we began to practise the case like a real trial. We also changed the tables in the classroom to replicate what a real court would look like and we practised the case again and again in our places.
The case itself was about domestic burglary, about Bek Lejohn who has been accused of stealing a PlayStation. We had to understand the legal definition of burglary: trespass with intention to steal property. We also learned about the laws which applied to our case, such as the Theft Act 1968. One particular skill we had to use was sifting through the case details and extracting the relevant pieces of information, such as where Bek was and when, and sift out irrelevant information, such as what sandwiches she made when she got home! It was important to pick out the details that we could use to argue our case, and sometimes it was useful if there were other bits of information that supported the previous one. We also had to be careful we didn't repeat anything and that everything we said was consistent with the evidence.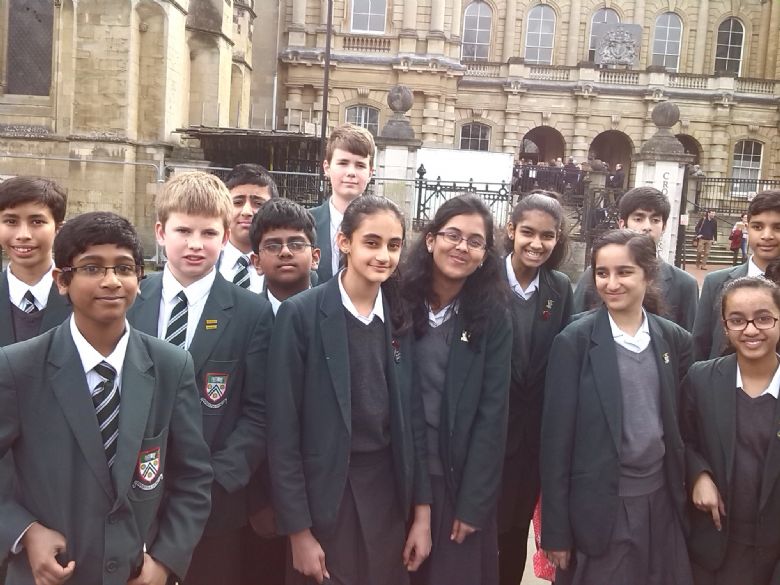 Once we got to Reading Crown Court, we were amazed at how big the building was and just how many people there were. The High Sheriff of Berkshire, judges, magistrates and mayors were all present and dressed up in their robes as if it were a real trial. The actual court room was bigger than we thought it would be; it was slightly daunting speaking to a room full of people!
It was really interesting to see how everyday cases were dealt with in England. All in all, the entire experience was very exciting and enjoyable and if I had the chance I would certainly do it again! Thank you so much to Mr Wolters for his time and assistance with this event.