Academic Outcomes
2021 GCSE and A Level outcomes
Public examinations in 2021 were cancelled due to the coronavirus pandemic.
This year, following the cancellation of exams, grades were awarded through a process of Teacher Assessed Grades (TAGs), against a national standard and approved and awarded by the exam boards.
Further information about the process can be found here.
The government is not publishing performance data for any schools or colleges this year due to the varying impact of the pandemic.
2020 GCSE and A Level outcomes
Public examinations in 2020 were cancelled due to the coronavirus pandemic.
In June 2020, schools were asked to supply the examination boards with the grades the school believed Year 13 students would most likely have achieved had they sat the examination in summer 2020 as normal. These are called the Centre Assessment Grades (CAGs).
The original intention was that examination boards would then apply a statistical standardisation process at subject level intended to ensure that the final grades awarded were broadly in line with what would normally be expected given the school's historic outcomes.
Extensive media coverage of the issue around the time of the release of A Level results led to a change of policy. In a statement on 17th August, the Department for Education confirmed that the GCSE, AS and A Level grades awarded would now be on the basis of the higher of the Centre Assessment Grades or the grades calculated through the algorithm.
For more information about the process, please read the following guide produced by the qualifications authority Ofqual (updated on 19th August 2020).
The 2020 outcomes are not directly comparable between schools and will not be used by the Department for Education in performance tables.
2019 and 2018 examination outcomes
Langley Grammar School students achieved very good results in both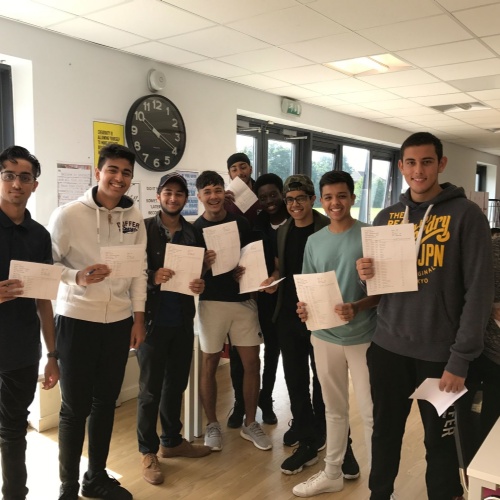 the 2019 and 2018 GCSE and A-Level examinations, reflecting their hard work and the dedication and support of their teachers and other school staff.
GCSE outcomes are important, but it is success at A Level which determines students' prospects for higher education. Our A Level outcomes have been consistently excellent over many years.
Taken together, the 2018 and 2019 GCSE and A Level results placed the school consistently in the top 100 schools in the country in the Sunday Times 'Parent Power' table. This ranking gives a higher weighting to A Level outcomes.
The separate pages for A-Level and GCSE outcomes provide further information on the achievements of students in the last three year, together with a breakdown of results by subject at each level.
For more information about Langley Grammar School's academic outcomes in 2019, please click on the link below to go to the School Performance information published by the Department for Education.