Computing and IT professional development
Langley Grammar School has a long history of involvement in continuing professional development in ICT and Computing, including specialist school status in Maths and Computing.
More recently, the school was designated one of the first National Computing Hubs in 2019. We work in partnership with STEM Learning, Teach Computing and other organisations to provide a range of support for primary and secondary computing teachers in schools and colleges in their area, including teaching, resources and CPD activities.
There are 34 Computing Hubs across England, led by schools and colleges with excellence in teaching computing. These Hubs support schools and colleges to provide a high-quality computing education to all young people.
We are an Apple Distinguished School in recognition of our use of iPads for teaching and learning, and are designated as an Apple Regional Training Centre to promote and run CPD events focusing on the effective use of Apple technology in schools.
iPads, Apple Distinguished School and Apple RTC
For more information about our iPad work and Apple Distinguished School designation, click here.
London & Home Counties Computing Hub
We operate under the title of Teach Computing London & Home Counties, and cover an area extending from West London out to cover most of Berkshire and parts of northern Surrey.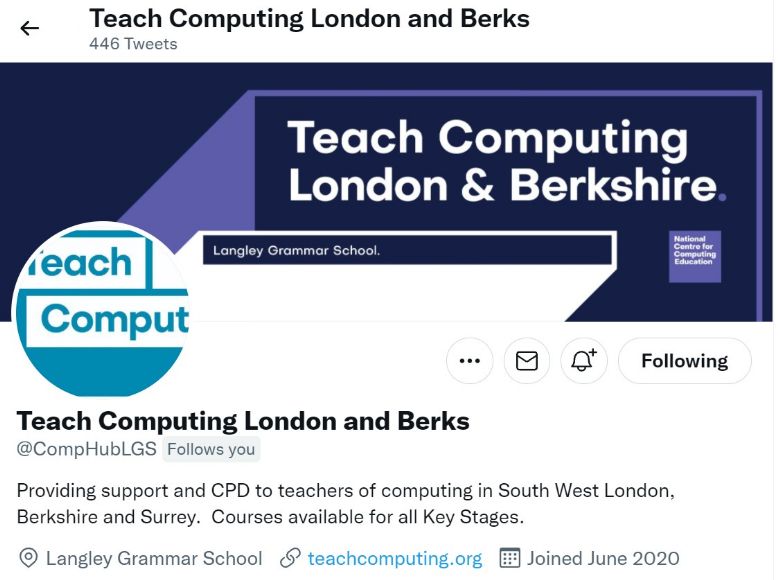 For more information about the CPD provided by the Teach Computing London & Home Counties hub......
Loaning Physical Kits
We can provide your school with hardware help with the teaching of coding and computer-related subjects. From October 2021 we will have available class sets of the following devices with all of the peripherals you will need to teach a unit from the teachcomputing curriculum for loan.
Crumbles
Micro:bits
Raspberry Pi Picos
We can also provide CPD on how to use the physical kits.
Please submit your request into the form here, along with anything else you would like to know related to the request.
Needs Analysis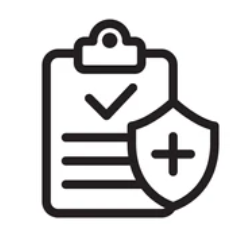 We can complete a one-hour review of your computing provision in your primary or secondary school and help you develop your computing curriculum through a needs analysis.
Take the opportunity to have a 'Health check' where we can find out more about the delivery of computing in your school. We can generate a report that will identify how you can utilise the wider range of free support we provide, including; CPD, mentoring, coaching, and resource lending.
To book a slot, please complete the form here.
Details of our upcoming courses
Leading Primary computing (2 days) – remote CE456
12 and 19 October (9:00-15:00)
Introduction to computer systems, networking and security in GCSE computer science – remote CE438
Algorithm using flowcharts and pseudocode - remote CE420
Introduction to computer systems, networking and security in GCSE computer science – remote CE438
1 November 14:30-17:30
2 November 16:00-17:30
Teaching GCSE Computer Science: improving student engagement – remote CE447
Assessment of secondary computing – remote CE413
Higher Attainment in GCSE computer science - meeting the challenge of exams - remote CE439
You can also visit our course details website here
Newsletters
The Computing Hub publishes regular newsletters:
See here for September 2021 Newsletter
See here for May 2021 Newsletter.
See here for March 2021 Newsletter.
See here for February 2021 Newsletter.
See here for January 2021 Newsletter.
See here for December 2020 Newsletter.
National Centre for Computing Education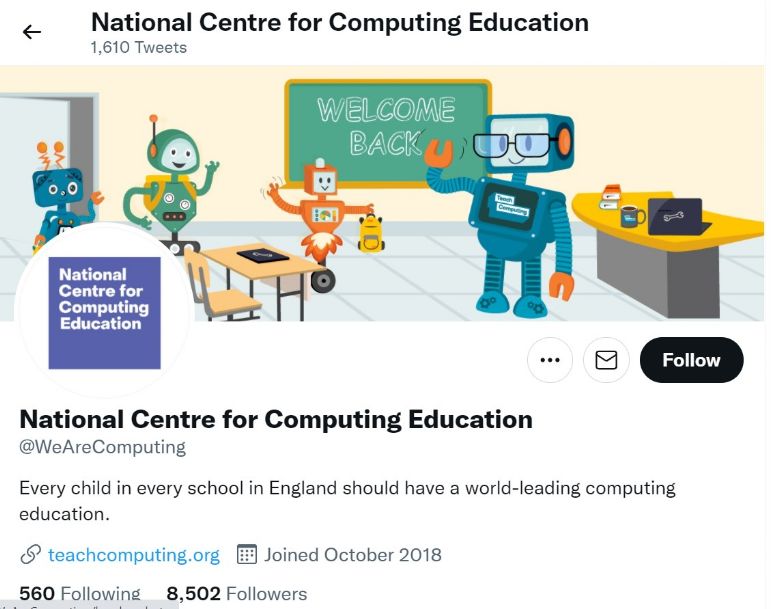 For more details about the National Centre for Computing Education see
Website https://teachcomputing.org/
Twitter @WeAreComputing