Student Leadership Team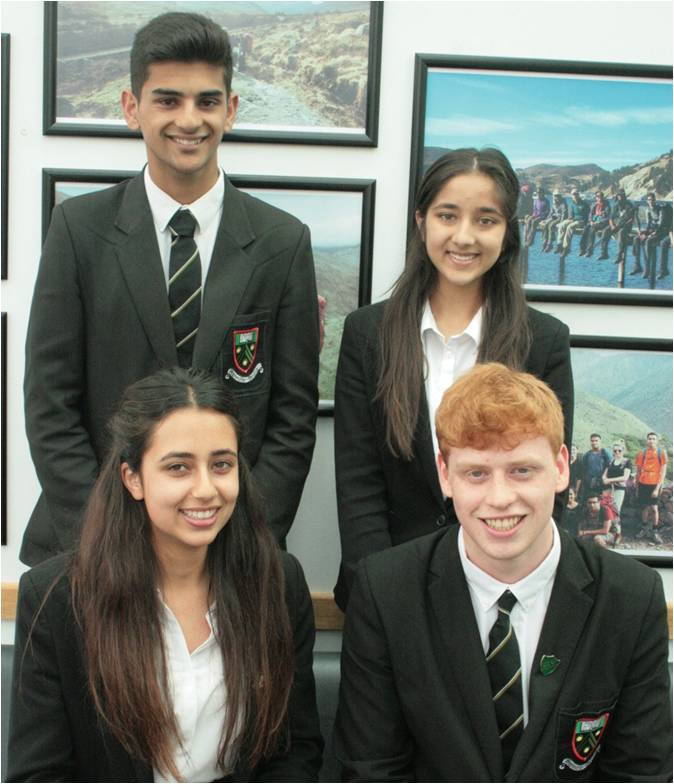 We would like to introduce you to our Sixth Form Student Leadership Team, comprising our Head Boy, Head Girl and their deputies.
These senior students play a very important role in the life of the school - they are role models to the other students in both the Sixth Form and the lower years, and they lead and organise a range of school activities.
Read below what they have to say about life as a Langley Grammar School Sixth Form student.
Ben Randhawa-Hiscock - Head Boy

"At Langley Grammar School, education goes beyond reading a textbook or frantically revising to pass an exam. Education is fundamentally about moulding children into confident young adults who are eager to make their mark on the world. Every student at Langley Grammar School experiences education in a truly unique way, forcing us to think independently, and, most importantly, determine who we want to be. This experience teaches us to build relationships whilst working in a competitive environment, ultimately helping us to strive towards success."
Amber Dhoot - Head Girl

"Langley Grammar School offers me the best learning environment to achieve my academic goals but to me its scope is so much wider than a defined curriculum: the students who attend Langley Grammar also embark on a personal journey, they learn about themselves and the people around them. Our school places colossal importance on being compassionate, a good team member and well-rounded which are traits that will not only help you as a student but will also help you to pursue your ambitions in the future, wherever they may take you."
Mohinder Nagra - Deputy Head Boy

"Langley Grammar School has helped me improve in all aspects of my life, as the relationships I have formed with teachers has enabled me to finally understand the topics that were unknown to me and with their guidance achieve academic success. However, my time here has helped me not only be a great student, but has laid the foundations for me to discover what is needed to be a great person. Whether that has been through sport music or drama, Langley has given me the confidence and eloquence to represent this school in a position of responsibility."
Gurveen Nagi - Deputy Head Girl

"The education provided by Langley Grammar School is truly versatile, and the tremendous support and guidance from the teaching staff help nurture young minds towards success; however, it is through the immense extracurricular opportunities that mould us into powerful, unique and expressive individuals. By developing these essential social skills alongside academia, the students of Langley Grammar School leave this school as competent young adults, with the confidence and ability to conquer the challenges they may face in the future."