Students and staff celebrate GCSE results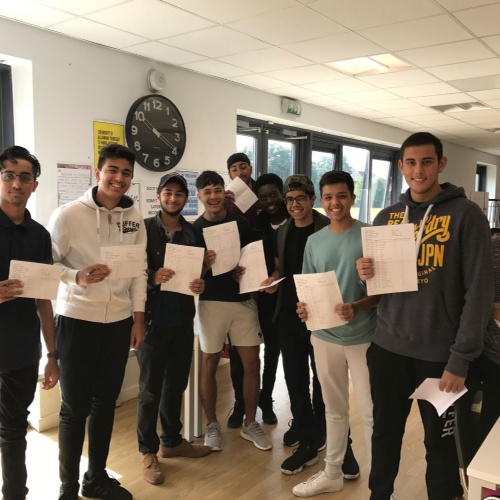 LGS students and staff have been celebrating an excellent set of GCSE results.
This is the first set of results for the new reformed (Grade 9-1) GCSE courses in Maths and English; these qualifications are more challenging, with significantly increased course content and more difficult examination papers.
We are delighted that all our students achieved a 'standard pass' (Grade 4 or above) in both English and Maths, and that almost all of them gained 'strong passes' of Grade 5 in both subjects. We are also very pleased with the significant proportion of students who gained the new Grade 9, which is pitched at a higher level than the former A* grade, and is awarded nationally to only around 3% of the students in each subject. Around a quarter of LGS students gained a Grade 9 in Maths, with a similar proportion in English Literature.

There were a number of particularly impressive performances including 7 students who achieved Grade 9s in all three reformed qualifications - English Language, English Literature, and Maths.
36 students gained Grade 9 in Maths
38 students gained Grade 9 in English Literature
12 students gained Grade 9 in English Language
Across the unreformed subjects using A*-G grades, just under 60% of the results were at grades A or A*, with an overall A*-C achievement rate of 96%. Overall, just over 61% of the grades achieved were at Grade 7/Grade A or above.

This year's results reflect the hard work of our students over the last two years and the commitment of our staff who taught and supported them. We would particularly want to thank our English and Maths teachers who have worked so hard, often with little resource material to draw on, to prepare this first cohort of students for the new-style examinations. For the great majority of students, these results will enable them to progress on to the next stage in their education as planned and we wish them well as they start their Sixth Form courses in a week or so.