Berkshire Book Award Launch 2018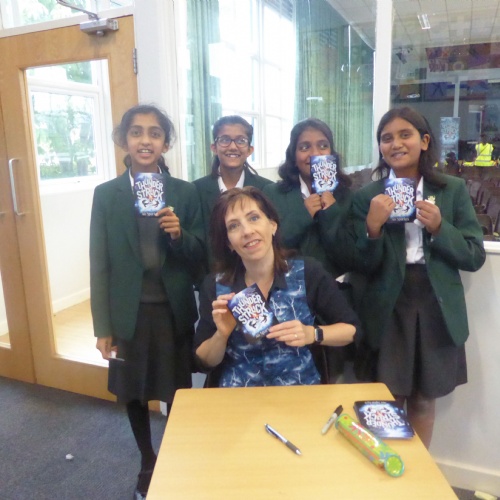 On Wednesday 11 October the Berkshire Book Award was launched at Langley Grammar School. Berkshire Librarians organise this award but the books, nominated and voted for, are chosen by school students in Years 7 to 9.
This article was written by Ms Shine, School Librarian.
The main speaker was the children's author Ali Sparkes, with introductory sessions from myself (Collette Shine, School Librarian) and Sharon Cripps, Chair of the BBA and Librarian at Garth Hill School, Bracknell. The audience comprised members of Year 8, some Year 7s and pupils from feeder schools Castleview and Ryvers.
Ali Sparkes engaged the students from the start by warming them up with audience participation techniques. This was in the style of a radio show or family pantomime. She had cards with appropriate words to hold up, such as "Groan" (for cheesy jokes), "Gasp" and "Clap Loudly".
She then started her presentation by taking us back to the 1970s with a magical whirly, whirly gadget. Ali admitted she was not an able reader or writer at school but during a library visit she discovered Enid Blyton and her love of books began. Her art teacher encouraged her to draw. There followed her first series of books which were heavily influenced by Enid Blyton and depicted her friends camping and having adventures. Cue for cheesy joke here and the use of the "Groan" card – it was a very intense story. Neither these nor subsequent books were published. However Ali persevered in spite numerous rejection letters and finally one of her books were published in 2006. Ali also read an extract from one of her books to an appreciative audience and answered questions about being an author.
Nomination slips for the Berkshire Book Award 2018 are available at the Library desk. Students, do come and fill one in!