Sports Day June 2016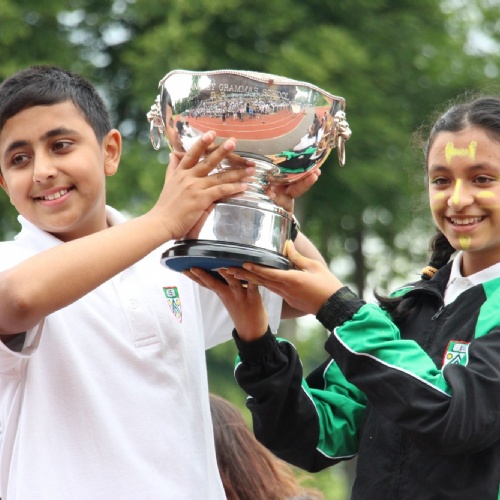 Fierce competition at Sports Day
Langley Grammar School's annual Sports Day is a day of fierce competition, sun (most years....) and pure fun. Superbly organised by the PE department, the 2016 Sports Day took place as usual at Thames Valley Athletic Centre and involved students from Years 7-10 and 12.
There was packed programme of track and field events throughout the day, with each house becoming more and more competitive - desperate to win those last few races and earn those vital points to add to the grand total. The relay events were last - the most intense races of the day, the results of which really could change the final outcome.
It's no surprise of course to hear that the results were close. At the end of a brilliant day, after 112 events the results were as follows:
5th place – Villiers
4th place – Seymour
3rd place – Kederminster
2nd place – Robinson
1st place – HARVEY
Special congratulations therefore to Harvey House for all of their hard work, which clearly paid off. However, congratulations to all the other houses who also gave it their full effort – after all it's not just the winning that counts but the taking part too!
Well done to everyone who represented their house and participated in an event and also everyone who supported their house by cheering the competitors on all the way through. On behalf of the student body, we would like to thank all of the PE department for organising such an enjoyable day for us.