Zambia Team Mwandi Summer 2016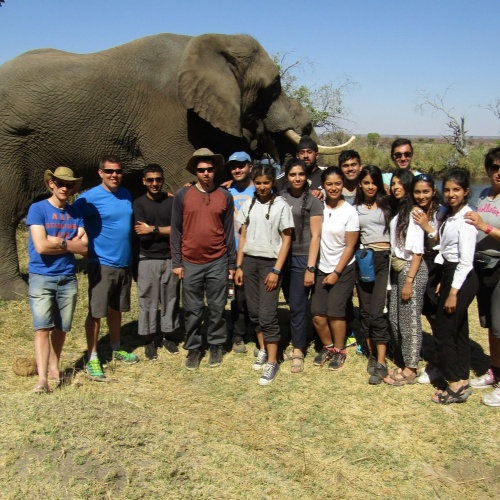 Read below to discover what 'Team Mwandi' got up to in Zambia this summer.
Sleepless nights, overwhelming emotions and political posters are the three things that come to mind when we think of our expedition. Nonetheless, Zambia was far by the most rewarding and challenging experience any of us have ever been through. Never did we think we could go 17 days without the help of our parents and day to day necessities such as beds, WiFi and social media.
The journey started in year 12 as we were briefed about the expedition and given the rather daunting task of raising just over £2,000; at first we were anxious as to whether we were going to raise this money and whether or not we were capable of carrying out this expedition almost completely independently, but after various fundraising and sponsored activities everyone within the group had finally reached their target.
Before we knew it, departure day (13th of July 2016) was upon us and after saying our emotional goodbyes to our parents and a brief problem at security we all boarded the plane feeling a mixture of nervousness and excitement. For many of us this was the first time we were going to leave our parents for a prolonged period of time and the first time any of us had gone abroad without the comforts of our family. We were delayed at Heathrow for quite a long time which meant that when we arrived at Dubai Airport we had 10 minutes to go through security (meanwhile losing half the team), run to the gate (which was on the opposite side of the airport) and finally board the plane... We all arrived at the departure gate just on time but then realised that within all this havoc, one of our team members had left his passport on the previous plane, this meant that he could not board the plane so unfortunately we were forced to leave him behind in Dubai Airport with Mr. Aplin while the rest of us went on to Zambia.
The rest of our group arrived in Zambia 7 hours later and went through immigration to find that less than half of our bags had made it from Dubai to Zambia! Looking back, this was a very serious problem as most of us had our malaria tablets and other essential kit in our lost luggage, however we were all so fatigued at this point, that all of us found humour in the situation and decided to not let this get us down. We then arrived at our accommodation in Lusaka and the next day embarked on a 7-hour journey from Lusaka (the capital) down to Livingstone.
We settled into our new accommodation (which became our 'home' as we returned here a few times over the next 17 days). Here we had a team meeting and delegated team leaders for each day. Livingstone is the tourist capital of Zambia and this is where we partook in various recreational activities (such as having lunch with a family of elephants next to the Zambezi River, visiting Victoria falls twice, going on a rather fascinating safari and going on a cruise which had the added surprise of being reunited with the other group!). These activities were some of the highlights of the trip as it gave us a break from the other physically demanding elements of the trip.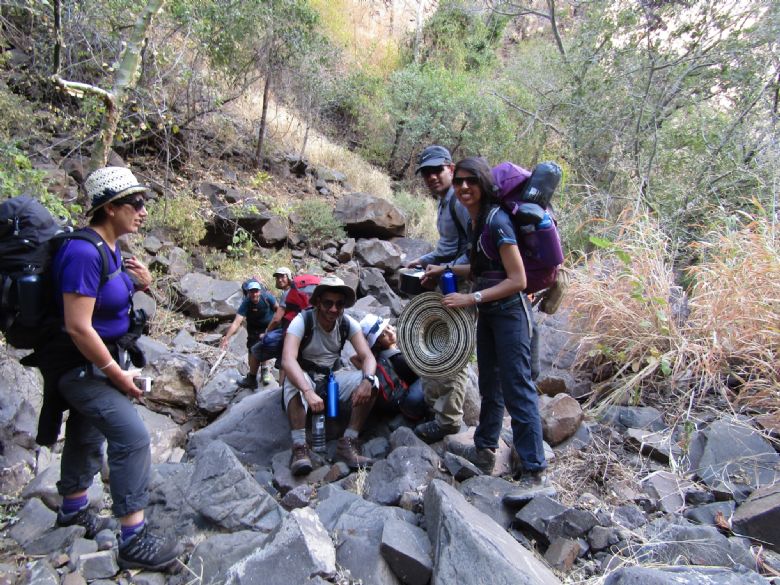 The lost two members of our team finally arrived on day 4 alongside our bags, this was a pleasant change from wearing the same clothes, not being able to brush our teeth or have a shower and this lifted the spirits of the group hugely. This enabled us to finally move on with our packed itinerary and enter our trekking phase; the trekking phase was composed of the most demanding hike we had ever been on as it was at a steep decline down the Batoka Gorge to the Zambezi riverbed, a night by the Zambezi river sleeping under the stars against the most beautiful backdrop and then another day trekking back up the Batoka gorge and to a local village called Mukuni Village. This phase was a real turning point within our group as we started to work in unison and really listened to each other and from this point on, we became less 'faffy' and more determined to work to a timetable and rota. The second day of the trek was the most exhausting day out of the 17 days we were there as we trekked up an incline so steep that we had to use our arms and pull ourselves up the cliff edge, this was incredibly unnerving as there were many loose rocks and you could hear and see the Zambezi River rapids below us and we were all scared to even think what would happen if we slipped and fell. We did this on a empty stomach (a huge mistake!) while carrying an injured member of our team and once we got to the top we trekked in the direct scorching sun for about another 6 hours to Mukuni Village.
Visiting Mukuni Village was an amazing experience, it was a village which had not been touched by any sort of Western influence and was authentically Zambian. The first thing we wanted to do was visit a Zambian school and this proved to be such an emotional experience because the children (aged 3-8) decided to perform a poem for us about AIDS and to hear them talk about it in so much depth made us all realise just how much of a prominent problem AIDS was in Zambia. This tied in with the community- based project we were due to carry out later in the expedition, this project was our main focus of the entire expedition.
We spent 7 days at our project site in the village of Mwandi, our project was to build a house for 13 AIDS orphans (aged between 6 months- 16-year-old) and their carer. The thought of creating a home for these orphans was something that deeply touched all of us and after meeting the orphans and their carer made us even more determined to finish this house for them. The project consisted of three phases- making the mud, throwing the mud onto the walls and distributing the mud (the most difficult and laborious task) however, what made this project all the more special was the fact that we were building the new home right next to the old one so we could see the children's faces changes everyday and could experience every emotion they felt in seeing their new home being built right in front of them.
We had a day off from making the house on Sunday and were invited by the rest of the village to attend church so we got up early in the morning, put on our nicest clothes and made our way down to the river where the Church was situated. This service was the first service many of us had been to, it was amazing to see all the different gospel choirs sing hymns and how all of the community came together to dance, sing and laugh together, it truly was a breath taking moment.
We also had the amazing opportunity to visit the only preschool in Mwandi called "Aunt Beanor's preschool", the main aim of the day was to have fun interacting with the different children but to also donate the masses of gifts we had bought especially from England. The presents ranged from footballs to reading books and seeing the raw and genuine happiness on not only the children's faces but also on Aunt Beanor's face deeply resonated with all of us because in that moment it made everything that we had done worth it: the years' worth of fundraising, the travel and the chaos that came with it and the troubles and homesickness's we all had experienced because none of it even came close to what these people had to go through day in day out, this feeling was not one we can describe or put into words but it is one that we will all remember for the rest of our lives.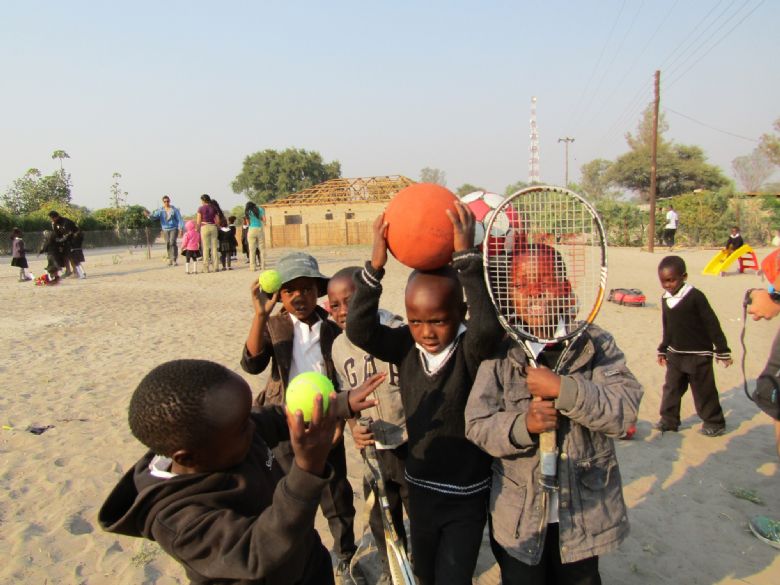 The last day of the project was the most emotional day as everything we had worked for had finally come to an end, we had to say goodbye to the orphans that we had grown quite attached to and the village that we had grown to love. There were a lot of tears and hugs as we gave out presents and finished the final stage of building the house- smoothing the mud walls- and then we were set to leave Mwandi for the beginning of our rather long journey back home.
Personally the most challenging part of our whole expedition was having to live out of backpacks (or lack of in most of our cases) and trying to turn a tent into our temporary home. It was hard to get any sleep the first few nights because we weren't used to being in such a small and uncomfortable space with no heating or duvets. The temperature dropped from 30+ degrees during the day to about 6 degrees after sunset – we were in thick jumpers shivering in the middle of Africa!
Sitting as a group at Lusaka airport we reflected on our journey, the expedition and how we felt leaving Zambia and we all had mixed emotions. We were all excited as we got to see our families again, upset at the thought of leaving behind the people that we had grown to love so much and excited to see how our changed perspective on life and the world would affect our day to day lives back in England. The lessons we learnt, the bonds we formed and memories we shared will stay with us for the rest of our lives and we can honestly say that the only thing we wish we had done was stay in Zambia longer and help more people.
Written By Nikhita Dhanoa (6G) and Meha Vora (6D)