Duke of Edinburgh Awards Celebration Evening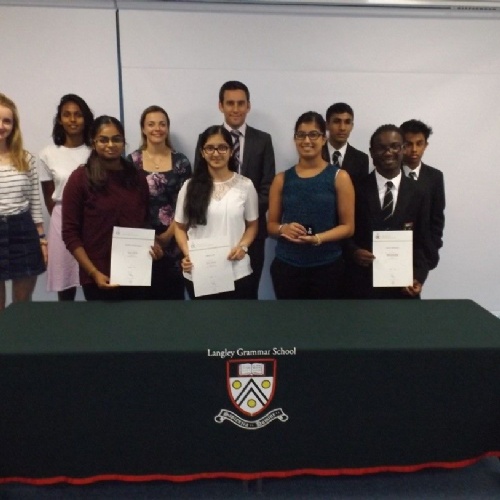 Over the last year we have worked hard as a school at giving more young people the opportunity to participate in the Duke of Edinburgh Award and we were delighted to celebrate their success at our recent awards evening.
We have given out a number of certificates through the academic year, which has been very pleasing to see the students achieving such a recognised award. We also invited 48 Award holders to a Celebration Event at school recently. It started with drinks and nibbles were we mingled with parents, staff and our V.I.P. before a more fomal presentation of Bronze and Silver Award certificates. The Gold Award holders will soon be attending St James's Place, which contains the throne of the British Monarchy, to receive their certificates. The event will be attended by celebrity V.I.Ps and a member of the Royal family. We hope that they will have a wonderful experience.
Over the last year the Duke of Edinburgh Award has gone from strength to strength in the school We have increased the uptake in Bronze to over 70 students, led by Mr Podbury and Ms Roughton. The staff begin working with the students in Year 9, training them after school every Monday in a range of skills. They run two practice expeditions and two assessed expeditions in the summer of Year 10 giving up their weekends on a voluntary basis to make this happen.
Silver is offered to Year 12, again we have expanded the enrichment offered to enable more students to take advantage of this opportunity in school. We ran a successful practice expedition to the New Forest and all Silver students passed their assessed expedition in the hills of the Brecon Beacons in South Wales.
We are very pleased as a school that the first group of Gold students, who started two years ago, have all now completed their Gold Award! A big thank you to Mr Podbury who set up the Gold Award and has given such wonderful guidance to the pupils. They also had a very rich and rewarding experience doing their assessed expedition to north Wales.
Mr Pascall (DofE Manager)