LGS Win Mock Trial Competition!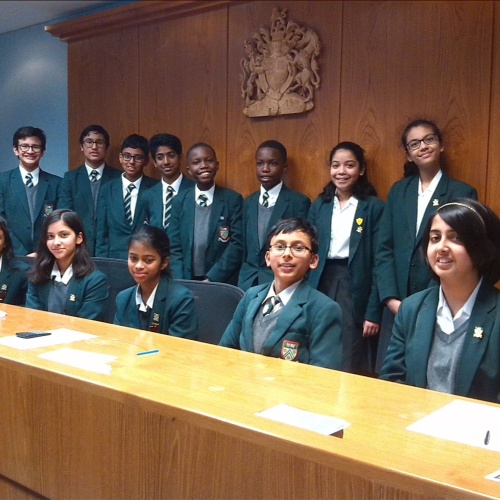 LGS win Magistrates Court Mock Trial
On Saturday 7th March a team of thirteen students from Langley Grammar School took part in the North West London heat of the Magistrates' Court Mock Trial competition, an event organised by Young Citizens. We were up against eight other teams.
The case we took part in concerned Ari Roberts, the defendant, who was charged with criminal damage for allegedly damaging a wall a Y- energy by spraying the walls with 'Planet over Profit'.
In the first round we were the prosecutors. The prosecution had to prove beyond a reasonable shadow of doubt that Ari was guilty, a very difficult task as all of the evidence was circumstantial. Tanvi Nadda and Priyadarshini Kanitkar led the prosecution for our school but it was always going to be an uphill struggle to prove the defendant guilty and unsurprisingly the team of magistrates found Ari Roberts not guilty.
The defence in the second round was led by Chidambaram Malladi and Malvika Kaujalgi. Here the problem was that the defence relied heavily on one witness, Ari's best friend, Brian West. Since he was a friend, his evidence was likely be biased. Brian West (well actually our own Joseph Alouchier) explained to the court that Ari had been awaiting anxiously and planning this protest for weeks. In his cross-examination, he was asked whether Ari would do something like this since he hated corporations. He responded by saying that Ari wanted a peaceful protest, which would have been undermined through an act of criminal damage. Chidambaram than gave a closing speech talking about the lack of evidence to relate the figure seen on CCTV by the two prosecution witnesses to Ari Roberts due to a concealed face and both of them being preoccupied, contrary to the Turnbull guidelines. After the legal adviser had then made a speech to the magistrates outlining the main problem with the prosecution - a lack of identification - and the main problems with the defence-nobody being able to confirm whether Ari's alibi of where he was during the crime was true. He then went over the Turnbull guidelines and beckoned the magistrates to remember to use the evidence found in court and court only. The magistrates than retired to discuss the evidence and come to a verdict. Once again the magistrates came out and the lead-magistrate declared Ari to be not guilty. If he had been found guilty the lead magistrate informed us that he would be judged by his previous criminal records and his culpability. Since Ari had a low culpability, with a shaky reason to do such an act and the act probably not being planned and Ari not having a previous criminal record, Ari would have only been fined a small amount of around £500.
Prior to this competition, we spent several months practicing being the defence, the prosecution, the witnesses and the magistrates after school on Tuesdays. I am happy to inform you that everybody in our team at Langley Grammar School had a lot of fun and got to spend much time with experts such as real magistrates. Being a magistrate is a voluntary job that pays no money, but is incredibly important for making sure that justice is served to those who deserve it. Our team also got to meet up with important figures such mayors and CEOs of large law firms. Our team was coached by Mr Wolters, who led all the months of practice leading up to this competition and spent his own time with us every Tuesday. With Mr Wolters' guidance and all the brilliant students that sacrificed their own free time for this competition, Langley Grammar School won first place!
Anirudh Rawat