LGS Virtual 3km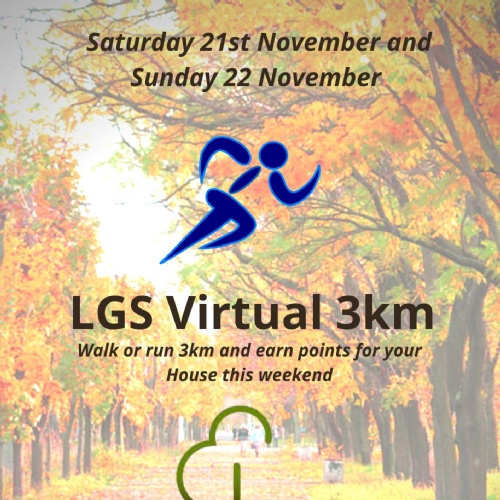 Dear all,
This weekend, Saturday 21 November and Sunday 22 November, the PE department are challenging staff, students, parents and extended families to a 3km virtual parkrun. The aim is to get as many people involved in the challenge as possible.
For those missing that little bit of competition and with the unfortunate absence of extra-curricular sports currently, this will be run as a house competition so we can find out who is the most active house! The house with the most entries will be crowned as champions!
Participants are welcome to walk or run the 3km virtual parkrun, it is up to you! They can even run further if they wish! Times are not the focus of this competition, we just want to encourage as many people to get out and be active this weekend. Each entry will contribute points to their House and there's bonus points for family members joining in as well.
There's plenty of apps than can be downloaded that record walks/runs such as Strava, Mapmyrun, Runkeeper, Nike Run Club.
Entries can be submitted via the link below, make sure you include pictures of your run with your entry..
https://forms.office.com/Pages/ResponsePage.aspx?id=yOit_AhV0U2KZOkqLu7Wz-pJGcUYqGNNs9gjl30tjMlUN1RIU1hNWlE5OTlMUjBYTE9YUDZPNFlJWS4u
Make sure you're following the LGS PE social media pages for coverage of the competition over the weekend.
Instagram – LGSPE1
Twitter – LGSPE
Thanks
Mr. Craig Bartlett
Subject Leader for PE