Year 12 Safe Drive Stay Alive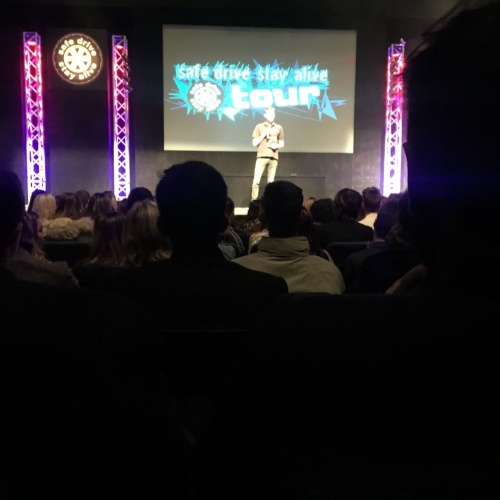 On Wednesday 16 November year 12 were invited to a 'Safe Drive Stay Alive' tour. Little did we know just how much the messages received and stories told would change our thinking.
Below is Tia Dhaliwal's (6E) account.
Safe Drive Stay Alive is produced by a road safety partnership including Thames Valley & Hampshire Police forces, local councils, and emergency services. Their aim is to reach new and provisional licence drivers in an emotive and hard-hitting way, to reduce accidents and save lives.
The presentation was very engaging. We heard traumatic stories told by victims of road accidents and gained the perspective of those working in the emergency services, including the police, ambulance service and fire service. A doctor spoke of his experience of attending accidents and we also heard from victims' families about how their lives were affected. Prior to, and after the show we could tweet our response to what we had seen. A selection of tweets were then displayed on the screen so all the students in attendance could reflect on what different students thought about the issues presented. However, whilst this was quite entertaining, the key message remained with everyone in the theatre: 'Safe Drive Stay Alive'.