Library Harry Potter Party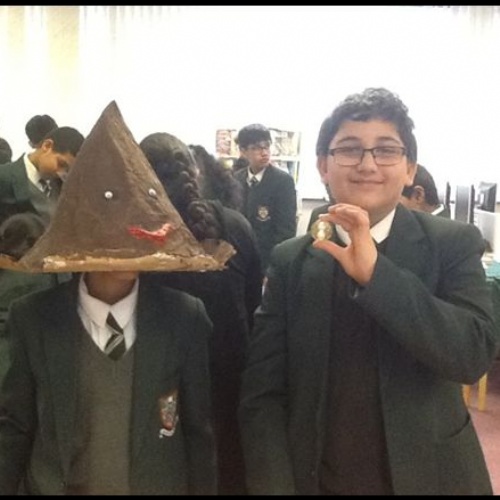 At lunch time on Thursday 2nd February the Library was transformed into Hogwarts and the pupils attended various classrooms. Mrs Shine, School Librarian tells more:
Some students chose to stir the cauldron and admire the potions, others marvelled at the magical creatures while still others tackled a variety of quizzes on every aspect of Harry Potter. Hermione's cat, Crookshanks, is reputedly bad tempered but Vibisaa Mahendran (7R) appears to have charmed him (see photo above). True Harry Potter devotees dressed up in their robes and wore their time turners. Gurjeev Virdee (7H) brought his own marauder's map. We did not sort pupils into houses. Nevertheless the Sorting Hat proved popular.
Pupils showed their competitive streak and vied for the Harry Potter themed prizes. First prize went to a group from 7S consisting of Benjamin Molaign, Smriti Mukka and Muskaan Basra, second were Ahmed El-Akehal and Gurjeev Virdee (7H), third Leeona Paulson and Anjli Raja ( 7S), fourth was Sankeerat Sidhu (8V) and fifth was Hafsah Zishan (7V). Below are a few of the pupils' comments:
Leeona Paulson said, 'It was a really great event and I had a lot of fun! The quizzes were a challenge and the décor was amazing.'
Waleed Arif said, 'It was enjoyable and fun and challenging: a perfect combination!