Admission to Year 7 - September 2023
Slough Consortium 11+ arrangements for September 2023 entry
The Slough Consortium of Grammar Schools consists of Herschel Grammar School, Langley Grammar School, St Bernard's Catholic Grammar School and Upton Court Grammar School.
We operate a shared 11+ entrance examination process using the same examination papers and common eligibility criteria. The 11+ examination for entry in September 2023 will be held on Saturday 17 September 2022.
11+ Online Information Event
An online information briefing for parents was held on Thursday 28th April 2022. The aim of this briefing was to provide information about registering your child for the 11+ examination and the arrangements for competing the Common Application Form.
A recording of the presentation can be accessed below:
Following the presentation, a question and answer session was held. A summary of the questions asked by parents, and the Consortium responses, can be accessed from this link:
We have produced two key documents to give you more information about the Slough Consortium 11+ testing process. You can access them by clicking the links below or by downloading from the document list at the end of this page.
---
Registering for the Slough Consortium 11+ examination
You can register your child for the Slough 11+ examination by accessing the registration portal. Registration opens on Monday 2nd May and closes at midnight on Sunday 12th June.
You can access the registration portal here or by clicking on the link below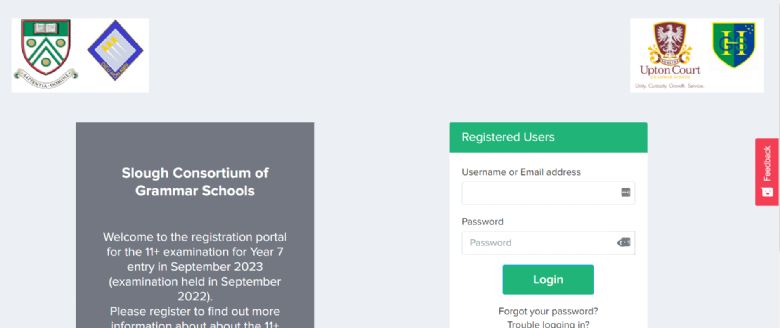 ---
11+ Familiarisation material
The test provider CEM has produced some familiarisation material which may be helpful in preparing your child for the test in September.
Please note that there is no other official familiarisation material available.
---
Eligibility for entry to grammar schools
Admission to any of the four grammar schools in Slough is based on reaching an eligibility score in the consortium 11+ examination. A standardised score of 111 or above represents approximately the top third of the 11+ examination outcome range.
Any child reaching a score of 111 on a standardised scale is deemed potentially suitable for a grammar school education and is eligible for consideration for admission. However, each of the four schools have different criteria for admission in the event that they receive more applications than they have places available.
---
Langley Grammar School Admissions arrangements for 2023 entry
The Determined Admissions Arrangements (also known as the admissions policy) for entry to Langley Grammar School in September 2023 can be accessed here.