Student Leadership Team
We would like to introduce you to our Sixth Form Student Leadership Team, comprising our Head Boy, Head Girl and their deputies.
These senior students play a very important role in the life of the school - they are role models to the other students in both the Sixth Form and the lower years, and they lead and organise a range of school activities.
Read below what they have to say about life as a Langley Grammar School Sixth Form student.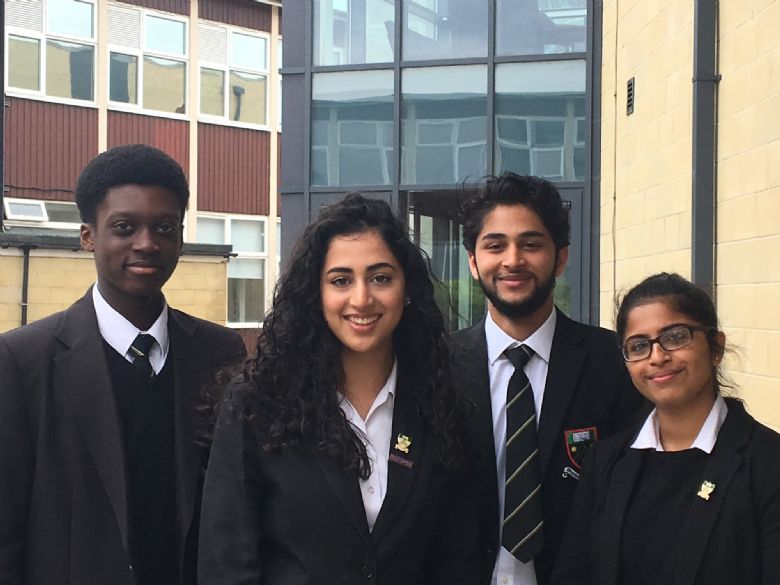 Anthony Abraham - Head Boy

"Langley Grammar School creates an environment that cultivates curiosity and a genuine passion for learning. What sets us apart from other schools is not only the array of opportunities we are given to academically excel, but the skills we acquire from our experiences here, that make us well-rounded students for the future. Our teachers constantly challenge, support and motivate us; nurturing an eagerness to learn and expand our knowledge. It is through my many great experiences at Langley Grammar School, that I have become an independent, and highly motivated young man."

Aleena Khan - Head Girl

"The school has given me many opportunities to widen my interests in areas such as politics. It is learning about what's going on in countries such as Israel and Palestine through enrichment sessions that I have learnt to appreciate how fortunate I am to have such a privileged education. The school is unique in a number of ways, but particularly in its atmosphere- a direct result of every student wanting to learn. It is being surrounded by like minded individuals that drives the dedication in yourself and others."

Amar-Rajinder Degon - Deputy Head Boy

"What makes Langley Grammar unique is its ability to balance intellectual excellence with flourishing individuality. The diversity of people is met by a breadth of opportunities that has allowed students to shape the people that they are today. The competitive yet strongly supportive environment is what drives people to find success in their individual talents, wherever they may lie, while uniting us within a community of enthusiasm and eagerness to strive for our potential. I have no doubt that our experience in the Sixth Form will develop the skills of compassion, ingenuity and resilience needed to conquer the real world."

Vandita Vinod - Deputy Head Girl

"The school has given me a chance to work on myself as a person as it provided me with many opportunities to work on different skills and my role as Deputy Head Girl is a real test of everything I have learnt in the past 6 years. Skills I have picked up from my time at LGS include leadership, working as a team and being able to solve problems effectively. The school is unique as there is a strong student to teacher connection in which students can easily approach teachers to discuss progress or to gain extra support. The school's use of iPads is also effective to communicate with teachers."