Student Leadership Team
We would like to introduce you to our Student Leadership Team, comprising our Head Boy, Head Girl and their deputies.
These senior students, who are now in Year 13, play a very important role in the life of the school - they are role models to the other students in both the Sixth Form and the lower years. They lead and organise a range of activities across the school, including the School Council.
Read below what they have to say about themselves and their experience as a Langley Grammar School student.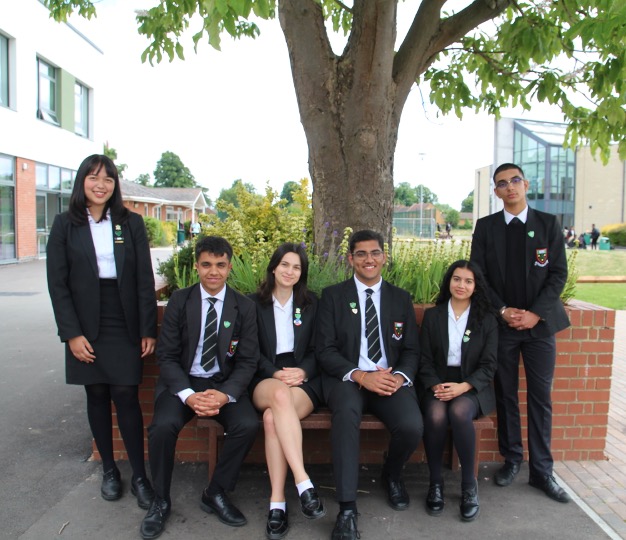 Dorina Nentcheva Head Girl

Langley Grammar School provides its students with a nurturing environment which encourages them to reach their full academic potential, while also promoting non-academic pursuits, notably sports, drama, music, and art. The extra-curricular activities which students are exposed to shape them into confident young people, who are well-rounded and open-minded. Alongside this, the numerous roles of responsibility which students have the chance to benefit from acquaint them with independence and leadership. Overall, school-life here is rich and varied, whilst the community is amicable and welcoming. If I had to summarise my experience, I would say that it was formative, empowering, and gratifying.

Ishir Sharma Head Boy

Thought-provoking. Tight-knit. Inspiring. LGS in a nutshell. My journey began in Year 7 and at every step I've been challenged to unlock more of my potential, whether that be for leadership opportunities such as the Head Boy role or going beyond our curriculum to further my interests in Medicine. We have a flourishing and diverse community, rooted in a sense of belonging with the common goal of continual development into well rounded individuals. LGS has not only given me the independence and awareness to step into higher education, but has also ingrained within me a sense of curiosity to learn more…

Abha Desai Deputy Head Girl

(focusing on the Equalities Agenda)

Langley Grammar School strives to develop inspiring young men and women, actively encouraging students to pursue their interests; ensuring they grow not only academically but also become well-rounded members of the wider community. Within each classroom a supportive atmosphere is cultivated by passionate and enthusiastic teachers, supporting students to develop academic prowess as well as the critical skills required in the workplace. This school has provided numerous opportunities for all its students to gain important life skills. Personally, I have been given the privilege of representing the school in sports fixtures as well as sharing my academic interests with younger students.

Udit Khanna Deputy Head Boy

(focusing on Operational Responsibilities)

Langley Grammar School prides itself on its academic excellence ensuring students fulfil their potential. Students are guided by brilliant members of staff who encourage us to be inquisitive and explore subjects further than the examined curriculum. Outside of the classroom, LGS is enriched with an array of extracurricular activities, each a stepping stone towards our social development. A melting pot of different cultures, the highly diverse community fosters an inclusive environment where each individual is valued for their unique ideas. Most importantly, Langley Grammar School ensures each student leaves with a strong set of moral values, and not just impressive exam results.

Catherine OO Deputy Head Girl

(focusing on Operational Responsibilities)

Langley Grammar School stands by its fundamental ethos words to help develop students to be more than a 'walking set of examination results', yet still ensure desired grades are obtained. From day one, students are supported and taught to strive for success and never fear failure. Everyone is presented with and encouraged to partake in a range of opportunities, whether that be leadership skills throughout the years to develop their confidence and communication skills, or extracurricular activities such as sports, drama and music to promote every individual's talents or interests. Our students are diverse, coming from a wide range of backgrounds, with peers acknowledging and appreciating each other's cultures, building a safe working environment.

Raul Verma Deputy Head Boy

(focusing on the Equalities Agenda)

Throughout my experience at Langley Grammar School, I have been allowed to develop myself, not only academically by achieving high grades but also strengthening my character. LGS not only provides students with the ability to achieve their maximum academic potential, but also provides an environment where we are encouraged to cultivate our own interests, personalities and to pursue our passions beyond the classroom. This ensures that when we leave LGS we are prepared for the world and have much more than just our examination results behind us.