Student Leadership Team
We would like to introduce you to our Sixth Form Student Leadership Team, comprising our Head Boy, Head Girl and their deputies.
These senior students play a very important role in the life of the school - they are role models to the other students in both the Sixth Form and the lower years, and they lead and organise a range of school activities.
Read below what they have to say about life as a Langley Grammar School Sixth Form student.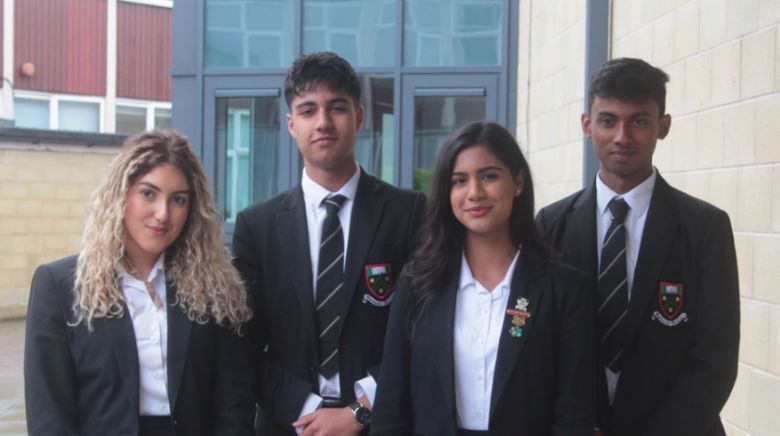 Jannah Anwar- Head Girl

"Langley Grammar School is a collective body of hardworking and passionate individuals, staff and students alike, who all serve to make school truly the best place to be. Whether it's the drive early on to get achievement points for your own personal goals, competing in house events or performing at the range of evenings to showcase your talent - musical, academic, sporty (you name it!), our school thrives on developing well rounded and ambitious individuals who love to learn. Being able to use iPads not only allows us to adapt to the ever-changing world of work, but always leave us with something new to bring to the table.​​​​​​​"

Haziq Ibrahim- Head Boy

"Langley Grammar has provided me with a friendly, challenging and motivating environment with something new to learn each day. From sports to academics, this school has allowed to me to reach my potential as a human being, let alone as a student. The school has provided me with countless opportunities to allow me to express interests, talents and hobbies to a greater level. What makes this school unique, is the attentive and dedicated support from the teachers. In times of need, their wisdom and positive attitude always provides a solution."

Hana Ibrahim- Deputy Head Girl

"Langley Grammar School maintains a competitive and professional environment, ensuring all students have support and access to opportunities throughout their time at the school. The atmosphere created allows for individuality and the chance to work towards a desired career goal, with well informed staff constantly sharing advice on how to excel. Although academia is highly regarded, Langley Grammar ensures that all students are well rounded. Enrichment sessions are timetabled in the Sixth Form, increasing the sense of appreciation for the wider world. The Sixth Form has helped me to develop different qualities, including creativity, resilience and independence, which I am sure will help me in the future world of work."

Faheem Anwar- Deputy Head Boy

"Langley Grammar School is first and foremost, a learning environment. However, this learning has never been restricted to what one would deem 'traditional' education, but instead involves growth in all aspects of one as a person. For me, this school has allowed me to reflect on the achievements (and failures) of my past, while still help prepare me to enter the beginning of the rest of my life. A school so diverse in its students and staff has yielded hundreds of different perspectives, all whilst promoting tolerance and discussion to enable me to become a grateful and determined young adult."