Student Leadership Team
We would like to introduce you to our Student Leadership Team, comprising our Head Boy, Head Girl and their deputies.
These senior students, who are now in Year 13, play a very important role in the life of the school - they are role models to the other students in both the Sixth Form and the lower years. They lead and organise a range of activities across the school, including the School Council.
Read below what they have to say about themselves and their experience as a Langley Grammar School student.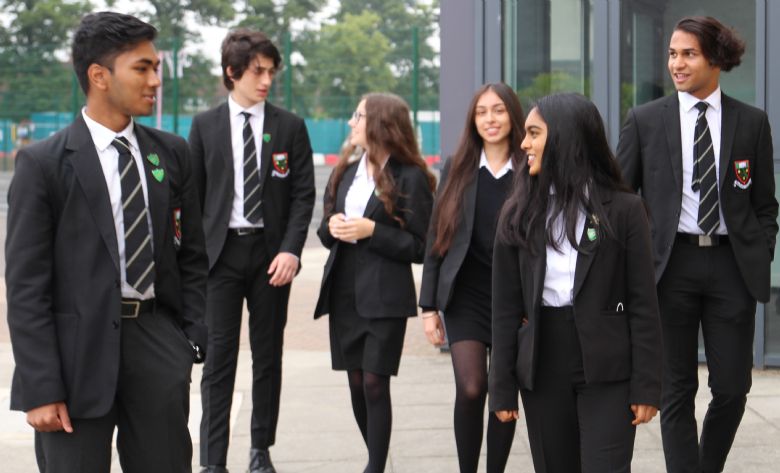 Anastasia Simmonds- Head Girl

In Langley Grammar School, the students procure more than just a set of excellent exam results, but also relevant skills that will assist in prospective degrees, apprenticeships and careers. Within the classroom, our curiosity and desire to learn thrives. Within the school, we are presented with a broad range of opportunities spanning from student leadership positions to extracurricular activities like sports, prompting us to build our confidence, teamwork and independence. Perhaps most notably, the community encompasses a wide range of backgrounds, while the school cultivates an inclusive environment in which each individual is valued and recognised for their unique talents.

Ahmet Kucuk- Head Boy

Our school prides itself on the creativity and confidence of its students. Upon entering our school gates, there is a pulse of our community, providing a nurturing space for growth and learning. From sports to academic excellence, our school offers a diverse range of opportunities, each a stepping stone towards our academic and social development. Langley takes a holistic approach to education, reminding us to go above and beyond the classroom to gain a deeper understanding of disciplines that we may pursue later on. As our ethos reminds us, we strive to reach our full potential as individuals and a community.

Zainab Shaik- Deputy Head Girl

(focusing on the Equalities Agenda)

Langley Grammar School bases its foundational principles in nurturing its students allowing them to prosper to become unique, well-rounded and ambitious individuals guided by professionalism, humility and service to the community. From the get go, we are taught to strive for the best and learn from our failures and successes alike with staff always being supportive and appreciative of our efforts. The school has presented my peers and I with countless opportunities to enrich ourselves beyond the scope of curriculum, enabling us to carry ourselves with a cloak of confidence both within and past the walls of school.

Sameer Gonuguntla- Deputy Head Boy

(focusing on Operational Responsibilities)

Throughout my time at Langley Grammar School I was mentored to grow and develop into the person I am today. I was able to find new interest and hobbies through a wide range of sports, art and music activities. The staff provide a great support system which has allowed me to excel in all aspects of school life, not just academically, right from the start when I joined in Year 7. Everyone at the school feels a strong sense of community and we all strive to be the greatest that we can be, helping each other along the way.

Anisha Thind- Deputy Head Girl

(focusing on Operational Responsibilities)

Langley Grammar School is a prestigious academic school; its supportive community still manages to cater for their students' individual needs. The school achieves this by offering different activities to all students ranging from sports to music. Langley Grammar School offers a very welcoming and diverse community, giving students a safe environment to grow into people who are more than just a walking set of exam results. Langley Grammar provides many opportunities to allow their students to thrive and gain transferrable life skills. This school has gifted me the opportunity to succeed as an individual, allowing me to reach my full potential.

Krish Vaid- Deputy Head Boy

(focusing on the Equalities Agenda)

LGS's unique ethos creates an environment specialised for adaptive, full-potential learning, which doesn't sacrifice strength of character for strength of grades. Focus days dedicated to creating the image of a 'student ready for the larger world' helps LGS students look towards the future and their potential life paths, instead of being hyper focused only on the grade sheet in front of them. It's this aim carried forward by both the senior leadership team, wider staff, and form tutors that prepares children at the school for life beyond the classroom, ensuring that they are something more than a walking set of exam results.